Skip to Primary Content
Please note that miamidade.gov no longer supports Internet Explorer. We recommend upgrading to the latest Microsoft Edge, Google Chrome or Firefox.
Criminalist 2 helping impoverished families through missionary work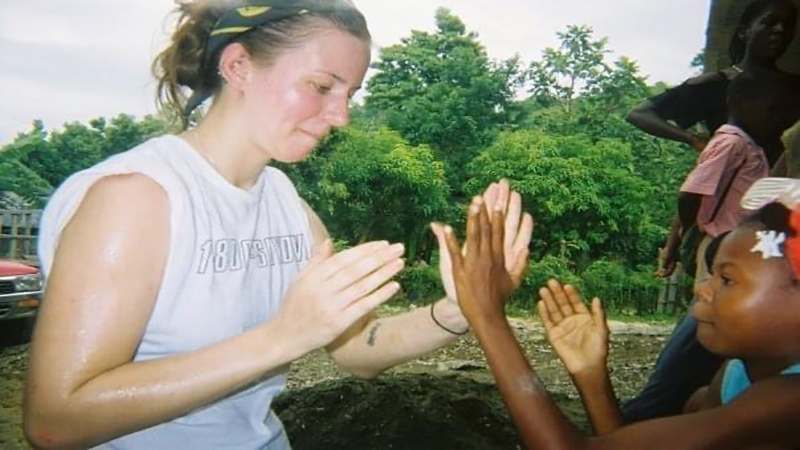 Over the past twenty years, Criminalist 2 Erin M. Wilson has helped rebuild a dilapidated orphanage in Haiti, has helped build in-home stoves with proper ventilation for families in Guatemala, and has visited hospitals in Jamaica and the Bahamas as part of her church's missionary trips. Her extensive charity work, which she has been doing since she was 15, stretches across numerous countries.
"I think it's really easy to give money, and I know that sounds silly, but it's really hard to take a chunk of your time, and give it to something else or someone else," said Ms. Wilson, who for 16 years has worked in the crime lab within the Department's Forensic Services Bureau, as a firearm and toolmark examiner.
"The bible teaches that you are supposed to give to others, and that's what I'm trying to do," she said. "You're never more appreciative of what you have, as when you go to a place like Haiti or Guatemala, amongst the poorest in the world, and see what they have to do to survive, and how heartbreaking it is to see mothers who can't feed their babies, and parents who drop their kids off at orphanages because they know they'll get better food, education, and other things there, that they can't provide on their own."
Ms. Wilson recalled her first of many trips to Haiti, when she was a college student. It was the summer of 2004. The flight took several hours, and then the bumpy ride, in the back of a pickup truck, from the city of Port-de-Paix to a small coastal village, took another hour. The destination was a dilapidated orphanage, and the task was to rebuild it, to give the children who called it home a better place to wait out adoptions.
For seven days, Ms. Wilson and other members of her church made the trip from Port-de-Paix to the orphanage and back. On the first day, she noticed a small girl among the other orphans. While the other kids played, the girl retreated and sat down in silence. Ms. Wilson sat next to her and put an arm around her. Although they spoke different languages, the gesture was enough. Every day, the girl would seek out Ms. Wilson, hold her hand and follow her around as she worked to fix the orphanage. When it came time to say goodbye, the two hugged, and the girl pointed to the black and yellow bandana that Ms. Wilson wore on her head to keep her hair back. Ms. Wilson took the bandana off and gave it to the girl. That was the last time Ms. Wilson saw the girl. "I wonder about how she is doing," Ms. Wilson said.
In her profession, Ms. Wilson hopes to inspire girls to pursue a career in the sciences. It was not an easy path for her, but one that has been rewarding and fulfilling.
"It was a dream of mine ever since I was in high school," Ms. Wilson said. "I came into forensics around the time it became really popular. It is a tough field to get into, and I had to fight and claw my way in." Ms. Wilson said she originally wanted to pursue a career in cancer research, but after learning that clinical trials can take up to a decade or beyond, she decided to pursue a field that offered more immediate results, forensics. "Who doesn't love justice, being part of a process that hold individuals accountable for their crimes," she said.
Ms. Wilson also fosters cats, and in the two years that she has been doing it, she has fostered approximately 70 cats. "I know firsthand what an animal can mean to someone, how they provide affection and companionship."
Ms. Wilson says the missionary trips can sometimes take an emotional toll, but fostering cats, and sometimes crying, helps a lot. "I'm very tuned into suffering, If I see it, whether it's a human or animal, I feel it, and I simply can't move past it, I feel I need to do something to help."
Leaving Miami-Dade County
You are now leaving the official website of Miami-Dade County government. Please be aware that when you exit this site, you are no longer protected by our privacy or security policies. Miami-Dade County is not responsible for the content provided on linked sites. The provision of links to these external sites does not constitute an endorsement.
Please click 'OK' to be sent to the new site, or Click 'Cancel' to go back.