Skip to Primary Content
Please note that miamidade.gov no longer supports Internet Explorer. We recommend upgrading to the latest Microsoft Edge, Google Chrome or Firefox.
Job can take emotional toll, but MDPD emergency call takers focus on helping others get through crisis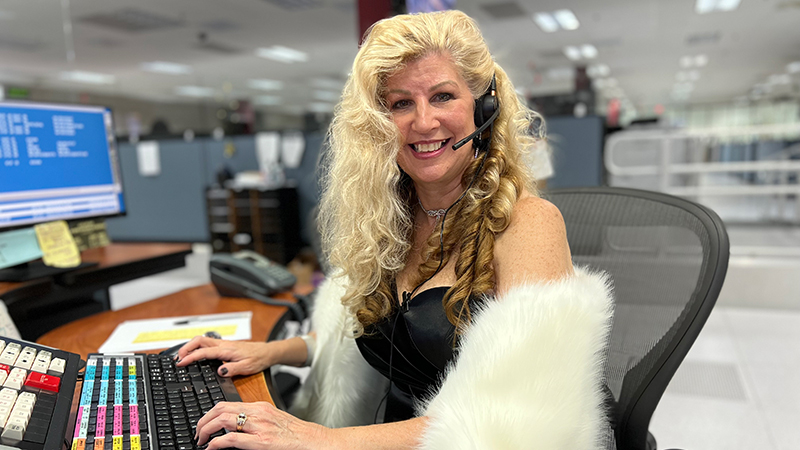 An average of 2.4 million calls come in annually to the Miami-Dade Police Department's 911 Communications center. The voice on the phone could be an exhausted whisper from a person fading out of consciousness after a horrific car crash, or it could be frantic screams from a mother cradling her lifeless child. Multiple calls may flood in after calamity. And occasionally, there are blatant misuses of the system, such as a parent calling to complain that their unruly child won't go to school.
At any given time, a Police Complaint Officer (PCO) may pick up a call from someone whose life is in imminent danger, and it is the responsibility of the PCO to do everything she or he can to help the caller, and at the same time gather critical information from the caller that will give a Dispatcher enough details to send out the proper response to a confirmed address, whether it be police, fire, EMS or a combination of those first responders.
During National Public Safety Telecommunications Week, the second week in April every year, society is reminded of the vital role that PCOs and Dispatchers perform for the public in times of crisis. There are some PCOs and Dispatchers with the Department whose careers have spanned two tragic events, the ValuJet Crash in 1996, and the Surfside Building Collapse in 2021. No one is born for the job, and eventually, even for the most impervious worker will need to step away, if just briefly, to readjust and recharge.
The PCOs and Dispatchers have at their disposal, at any time of the day, a counselor with the Department's Psychological Services Bureau. The Bureau is proactive, and reaches out to PCOs and Dispatchers after especially tough episodes.
There is no closure in many cases, and after a call, a PCO may never know how the situation ended. For call takers, who may walk a person through CPR or other lifesaving measures, that could weigh on them emotionally. And some calls can be draining because of the sheer duration, some have lasted for hours. A PCO spent over an hour with a caller in the wake of the Surfside Building Collapse.
"This job is not for everybody, there are people who are more susceptible to PTSD than others, and we tell the trainees that," said Ms. Debbie Speck, a Police Dispatcher who has been with the Department for 18 years. "But I wouldn't say, don't take this job because it will happen to you."
Next to the center's spacious open floor are two small rooms purposely decorated in muted colors and tranquil wall art, and both contain a comfy couch long enough to lay on. The rooms are perfect reading cubbyholes, or places to knit, or meditate, or finish a crossword puzzle. The rooms are getaways, quiet zones where PCOs and Dispatchers can remove themselves from the drumbeat of emergency calls. There are approximately 115 PCOs and 60 Dispatchers who split three shifts, and 10 sworn supervisors and 15 civilian supervisors. There are 90 workstation on the floor for the PCOs and Dispatchers, and approximately a dozen supervisor's pods.
Gaiety in the workplace helps too, and there was a daily dose of that during National Public Safety Telecommunications Week, in the form of dress-up days. The themes ranged from "Witches, Wizards and Dragons" to "Rock Star" to "Luau Party." On April 14, the "Pajama Party" day, Interim Director George A. Perez visited to personally thank the staff. "Every time the police radio turns on, there's chaos that's occurring, there's somebody who needs help and there's somebody who is asking for your help," he said. "It's you the 911 call taker, you the dispatcher, that brings that information to us, the law enforcement officers on the street, to deliver the services that are needed. We cannot do this job without you, our community is indebted to the everyday work that you complete for us, for Miami-Dade County."
Police Dispatcher Sonia Morales, who has been with the Department for 26 years, is one of those Dispatchers. Her ability to know cross streets and other markers to determine precise locations, is legendary inside the bureau, so much so that her coworkers have a nickname for her- Google Maps. "It feels good to be appreciated, we are that calm in the storm, you don't really see us, but we are an integral part of the whole system," she said.
Leaving Miami-Dade County
You are now leaving the official website of Miami-Dade County government. Please be aware that when you exit this site, you are no longer protected by our privacy or security policies. Miami-Dade County is not responsible for the content provided on linked sites. The provision of links to these external sites does not constitute an endorsement.
Please click 'OK' to be sent to the new site, or Click 'Cancel' to go back.