Skip to Primary Content
Please note that miamidade.gov no longer supports Internet Explorer. We recommend upgrading to the latest Microsoft Edge, Google Chrome or Firefox.
A Dream Deferred, But Not Dashed, MDPD Officer in Training to Return to Professional Tennis Rankings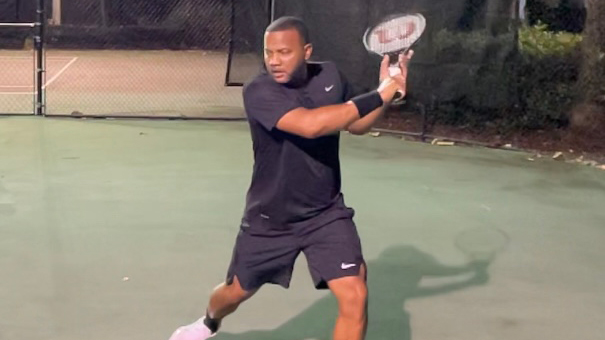 Lawrence Gunn Jr. is a middle-aged police officer with the Miami-Dade Police Department, but he walks with the bounce of an athlete, and his 6"3' frame still looks like it was shaped by countless hours of practice on the tennis court. It has been almost two decades since he flashed prodigious talent as a professional tennis player, and now he is seeking to get his form back and break into the world rankings once again. He has been practicing at the courts near his home in Miramar, with the hope that the Association of Tennis Professionals (ATP), the governing body of men's professional tennis circuits, will grant him a wildcard entry into the Miami Open in March 2023.
"That's all I want, and from there, it's up to me," said Officer Gunn, after a two-hour practice session recently. "I still feel that I can compete at the professional level. Imagine the story that would be, to be away for so long and then make a comeback."
Officer Gunn is 43, a father of two. When he was 16, he was ranked number one in the state for his age, and in the 18 and under category, he was top 10 in the nation. He discovered tennis at the age of 11, when two friends from his Liberty City neighborhood convinced him to attend their practice.
He had been a standout in basketball, but when he turned his attention to tennis, he realized his athletic calling. He made the United States Tennis Association's national amateur team, and traveled to international tournaments. He also played on his high school team, and amassed a 36-1 record, his only loss coming in his freshman year to the top-ranked player in the state, a senior. Scholarship offers came, and he accepted a full-ride to Flagler College in St. Augustine. He made the All-Florida Sun Conference in 1999, and was named an NAIA All-America. After school, he turned pro, and was on the pro tour for a while.
Tennis can be hugely expensive, and the reality is that a player must have private funding or enough sponsorship to focus on their career. Officer Gunn did not have either of those things, and so he took a job as a bus driver for the Miami-Dade County Transportation and Public Works Department, and worked there for 12 years, before he joined the Miami-Dade Police Department, where he has been for six years. He shut out tennis, played just a couple of times in the past 18 years, and did . He did not watch any tournaments in person or on television.
Officer Gunn loves being a police officer, sees it as a way to serve the public, to protect the vulnerable, and to mentor youth. Recently, he reunited with his youth coach, the man who saw the natural talent in him when he was 11. When Officer Gunn started practicing again, he discovered that his body still remembers. The idiosyncratic twirl of the racket in his right hand, that came without thinking, and so did the forehand, the backhand, the volley, and the serve, all of those things were ingrained in his muscle memory.
Local courts are full of casual exercise seekers, people in cargo shorts and high-tops who try to mimic the pros, only to flutter around, and sometimes crash into the net. The first clue that there is an elite tennis player in their midst is the sound of the ball off the racket. When Officer Gunn practices, he draws attention. The fluidity of his movements, the slice of his racket, the sound of his tennis shoes shuffling on the hardcourt, those things are refined skills that make others stop to observe him.
At 43, the odds are not in his favor, but Officer Gunn wants to give it a try, to show others that they should not give up on their dreams. And he truly believes he can return to the form that earned him pro status, and that he can excel at that level.
"Things happen for a reason, it took me a while to accept that," Officer Gunn said. "And now is the right time. Whatever happens, happens, but I can say that I gave it a try."
Leaving Miami-Dade County
You are now leaving the official website of Miami-Dade County government. Please be aware that when you exit this site, you are no longer protected by our privacy or security policies. Miami-Dade County is not responsible for the content provided on linked sites. The provision of links to these external sites does not constitute an endorsement.
Please click 'OK' to be sent to the new site, or Click 'Cancel' to go back.