Skip to Primary Content
Please note that miamidade.gov no longer supports Internet Explorer. We recommend upgrading to the latest Microsoft Edge, Google Chrome or Firefox.
Officers help save life of County employee who suffered heart attack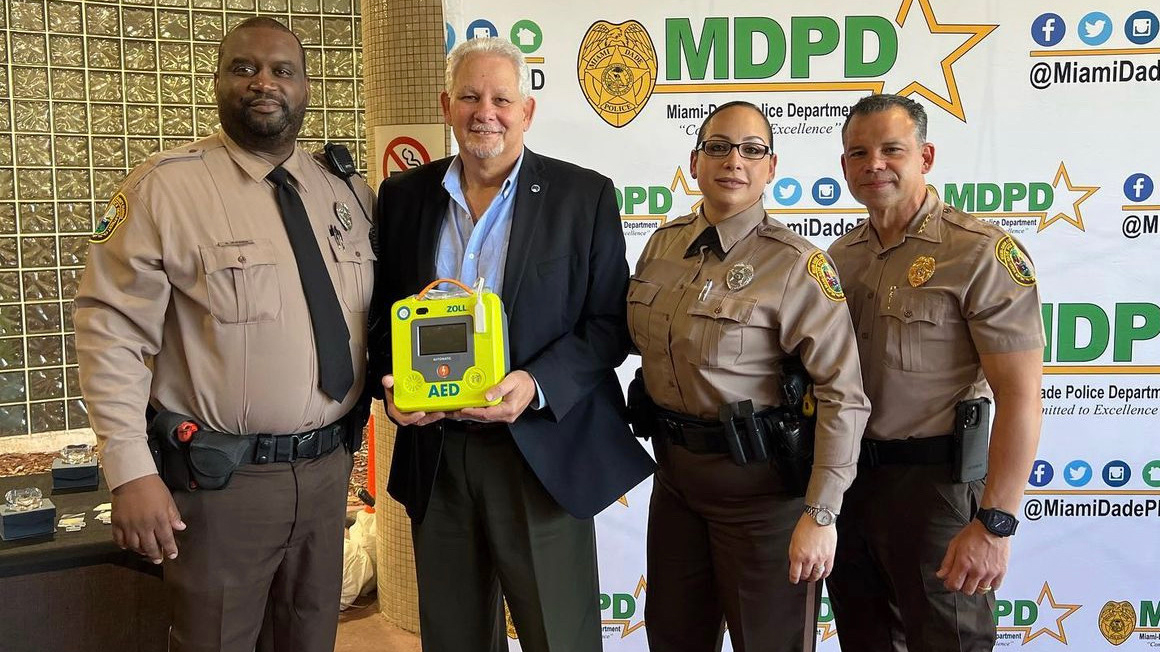 The Stephen P. Clark Government Center lobby was packed on the morning of October 18, 2022. It was the first Board of County Commissioners meeting since the new budget was passed. At the security booth, Officer Joandra Dobao's eyes were drawn to a tall gentleman with silvery hair, wearing a suit and toting a briefcase. There was something about his expression that concerned her. She watched him as he passed through the metal detector and retrieved his briefcase from the conveyor belt. Standing just four feet from him, she could hear him say to a colleague, "I feel dizzy."
Mr. Tony Quintero, the Miami-Dade Aviation Department's Associate Aviation Director for Governmental Affairs, was at the government center that day to brief the county commission on issues related to the Miami International Airport, as he routinely does in his role. Standing near him was Mayor Daniella Levine Cava, several commissioners, and Director Alfredo "Freddy" Ramirez.
"It was a day just like any other day," Mr. Quintero said. "I showed up and walked through security, and I remember saying that I feel dizzy, and that's it. The next thing I knew, I was waking up in a hospital."
Mr. Quintero suffered a "widow-maker" heart attack, a lay term used to describe the total blockage of the left anterior descending artery, which supplies a significant amount of blood flow to the heart muscle. The blockage can be particularly lethal without quick medical intervention.
Mr. Quintero's eyes rolled back, and he fell to his knees. He slammed face-first onto the floor, and his nose started bleeding. Officer Dobao rushed to him and rolled him on his side. Mr. Quintero was gasping for air and then stopped breathing. Officer Dobao said his skin color turned "magenta purple." She checked for a pulse but could not detect one.
Officer Dobao first used CPR 12 years ago, responding to a drowning call. A one-year-old had fallen into a pool and was not breathing when she arrived. Despite her attempts to revive the child, the child was later pronounced dead at a hospital.
With Mr. Quintero, something kept running through her mind. "I just couldn't stop, and I kept saying, 'Don't die on me, don't die on me," Officer Dobao said.
Another officer at the security booth, Officer Shelton D. Green, had already rushed out of the lobby to retrieve his Automated External Defibrillator, or AED device, from his marked car, which was parked just outside a nearby exit. He returned within seconds, and Officer Dobao fastened the device's sensors to Mr. Quintero's chest and abdomen. Officer Dobao was still performing chest compressions on Mr. Quintero. The AED's audio instructed to push harder. Officer Green, who stands 6'3" and weighs about 300 pounds, took over the chest compressions, applying his considerable heft to the task. Officer Green has been with the Department for 20 years but has never performed the CPR procedure or used the AED on a person.
"The training came back; it all came back," Officer Green said.
The AED advised "clear," and then the device delivered a shock. The current jolted Mr. Quintero's body. Officer Green continued to provide CPR. Members of the Miami-Dade Fire Rescue Department, including Chief Raied Jadallah, were already in the building for the commission meeting. They rushed downstairs to the lobby to take over the effort to revive Mr. Quintero. At that point, a pulse was detected. Mr. Quintero was rushed to a hospital for further treatment. Later in the day, a photo was snapped of him in bed at the hospital. He had a band-aid over the bridge of his nose and a smile on his face. He texted the first responders, "Thank you for saving my life."
On Thursday, December 15, 2022, the Department held a press conference to congratulate the officers and reunite them, for the first time since the incident, with Mr. Quintero. "I'm a big supporter of law enforcement, first responders, and you hear about them on TV and read about them in newspapers, but it's not until you have that personal experience that it happens to you, that it comes home," Mr. Quintero said. He attributes his rapid recovery to the quick response by the officers. He is able to walk two and a half miles daily now, on his road to recovery. "Every day I think about them, every day I think about all our first responders, what they do for us in this community, it's something incredible."
Director Ramirez said, "This is an example of skill, training, tenacity and having the tools that our first responders need each and every day to save a life."
Leaving Miami-Dade County
You are now leaving the official website of Miami-Dade County government. Please be aware that when you exit this site, you are no longer protected by our privacy or security policies. Miami-Dade County is not responsible for the content provided on linked sites. The provision of links to these external sites does not constitute an endorsement.
Please click 'OK' to be sent to the new site, or Click 'Cancel' to go back.