Skip to Primary Content
Please note that miamidade.gov no longer supports Internet Explorer. We recommend upgrading to the latest Microsoft Edge, Google Chrome or Firefox.
Roadway Named in Honor of Miami-Dade Police Sergeant Who Died In The Line Of Duty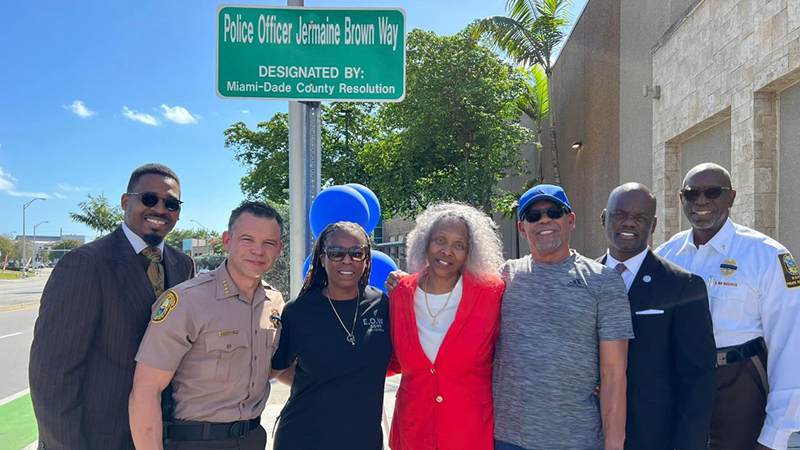 MDPD Sergeant Jermaine Brown left an indelible impression on his community, and now his name will forever be affixed to a roadway he often drove on during the course of his patrols, and near the place he called home.
Sergeant Brown, a father of three, died while on duty on December 12, 2018. He was responding to complaints of illegal activity when the ATV he was driving hit a tree. He was 49 and had been with the Department for over 15 years. At the time of his passing, he was on the Sergeant's promotional list. He was posthumously promoted to Sergeant.
Sergeant Brown ran a MDPD summer camp for youth, served as a volunteer football coach, and hosted annual fishing trips for at-risk youth, using his own personal boat. Assigned to the South District, he made himself available to residents, by giving out his personal cell number and encouraging them to call if they had any concerns.
On Thursday, February 16, 2023, Sergeant Brown's birthdate, approximately 200 people attended the naming ceremony, held at the intersection of US 1 and SW 117 Avenue. A stretch of SW 211 Street, from SW 112 Avenue to SW 117 Avenue was co-designated "Police Officer Jermaine Brown Way," under a resolution passed in 2019 by the Miami-Dade Board of County Commissioners.
During the ceremony, Commissioner Kionne L. McGhee, who was elected in 2020 to serve District 9, pledged $10,000 to start a scholarship fund in Sergeant Brown's name.
MDPD Sergeant Jannene Howard-Brown, Sergeant Brown's widow, unveiled the sign. After descending a small ladder, she took several steps back to look at the sign, and then she cried and held her hands to her face.
"I always wanted to keep his legacy alive and now it will stay alive," said Sergeant Jannene Brown. "We live not too far from here so every time we go out we will pass by here," she said.
Sergeant Jermaine Brown's mother, father, sister and other relatives traveled by car for 10 hours from Georgia to attend. "This was beautiful," said Sergeant Jermaine Brown's sister, Ms. Jeanette Sánchez. "It is very emotional, and I know he's smiling down from heaven. I always looked up to him and wanted to be like him, he cannot be replaced."
MDPD Director Alfredo "Freddy" Ramirez III, spoke of why his fallen officer's work made such a difference, that in addition to the many felony arrests he made working in South District, he positively affected the lives of at-risk youth.
"To the family, we told you on that very day, we will never forget, we will never leave you behind, and that legacy continues here today," Director Ramirez said. "His name is on the street looking over his community and looking over his fellow officers whom he adored."
The naming ceremony comes just a month after commissioners voted to extend the same distinction to another MDPD Officer killed in the line of duty. A portion of SW 167 Avenue was co-named to honor Detective Cesar "Echy" Echaverry, who was only 29 when he was fatally shot last November by a suspect he was pursuing, as part of the Robbery Intervention Detail. The road is one that Detective Echaverry often traveled as a youth growing up in the area. Like Sergeant Brown, Detective Echaverry distinguished himself by going beyond the scope of his job to help others. The streets are "co-designated" so that they retain the original address but are also officially known by the names.
Plaques honoring Sergeant Brown and Detective Echaverry have also been affixed to the "Hall of Honor," located on the first floor, east wing, of the Miami-Dade Police Department's Fred Taylor Headquarters Building in Doral. There are a total of 45 plaques there for MDPD Officers who gave their lives in the line of duty.
Leaving Miami-Dade County
You are now leaving the official website of Miami-Dade County government. Please be aware that when you exit this site, you are no longer protected by our privacy or security policies. Miami-Dade County is not responsible for the content provided on linked sites. The provision of links to these external sites does not constitute an endorsement.
Please click 'OK' to be sent to the new site, or Click 'Cancel' to go back.