Skip to Primary Content
Please note that miamidade.gov no longer supports Internet Explorer. We recommend upgrading to the latest Microsoft Edge, Google Chrome or Firefox.
After 14-Year Absence, Mounted Patrol Unit Makes First Public Appearance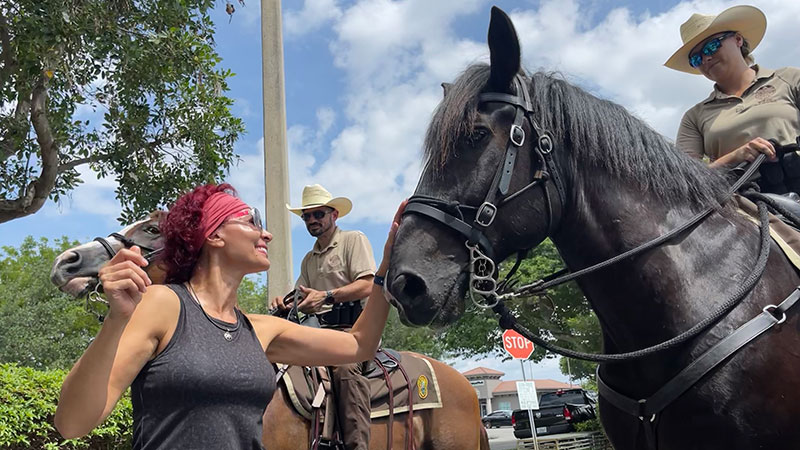 The Miami-Dade Police Department Mounted Patrol Unit is back, 14 years after it was disbanded due to budget cuts.
The Unit's first official public appearance was on Saturday, June 17, 2023, at the grand opening of the Vicky Bakery on 8290 Bird Road. The gathering was chosen because it offered the right amount of crowd activity for the horses, to prepare them for larger crowds and noises. There was music booming from large speakers, and there was a facepainting table near where the horses lined up, in the parking lot in front of the bakery. Patrons approached the horses and petted them, and snapped photos alongside them. The horses were calm, gentle giants, and seemed to bask in the attention. The scene highlighted the allure of mounted patrol units, to draw in people from all walks of life, and initiate conversations between citizens and police officers.
Most of the ten largest law enforcement agencies in the country have mounted patrol units. The Los Angeles Police Department, the New York Police Department, Chicago Police Department, and the Houston Police Department have dozens of horses and officers in their mounted units, and utilize them for a variety of purposes, from ceremonies to patrols. Several departments in South Florida also have mounted units, including the Miami Police Department and the Fort Lauderdale Police Department.
Rebuilding the Miami-Dade Police Department's Mounted Patrol Unit has taken some time. The Department's first official mounted unit began in 1983, but was disbanded in 2009 in the midst of the U.S. financial crisis. There were several attempts to bring it back. In 2015, the Department conducted a feasibility study that concluded that while the unit is effective, it should be put on hold because of other priorities.
Four years passed until there was another ardent effort to bring the Unit back. After the Miami Police Department provided a "Riderless Horse" for the 38th Annual Law Enforcement Officers' Memorial Ceremony on May 3, 2019, Officers Juan Carlos Planas and Kern Dieudonne approached then-Director Juan Perez at the conclusion of that event and suggested to him that the Department have its' own Mounted Patrol Unit once again. The Director told the officers to put a proposal together. The officers went to work, but realized they needed assistance from someone more familiar with navigating the process. They found Major Thamy Gonzalez, who had a background in horse riding. When she was a young officer, she dreamed of joining the Mounted Patrol Unit, but when she was promoted to Sergeant, her role as a supervisor took her on a different path within the Department.
"Both of them had been hounding me for years, to help them get the unit started, and it wasn't that I didn't want to do it, it was that I knew how much was involved and how difficult it would be," Major Gonzalez said. "So finally in July or August of 2022, I approached Director Ramirez, and asked him to give me the opportunity to give it a try, and here we are, thanks to a lot of help from other people."
The Unit was approved and candidates were interviewed. Officers Planas and Dieudonne were among the five chosen, along with Sergeant Jason Rodriguez, Officer Jose Trujillo, and Officer Christina Jacobs. They all attended the Basic Law Enforcement Mounted Patrol Training Academy, and after six weeks of rigorous training, they graduated on June 8, 2023. The Unit has four horses that also underwent training at the academy. Those horses were selected based on their temperament.
The stables at the Tropical Park Equestrian Center had become storage space in the years since the Unit called it home, and was filled from ground to ceiling with clutter. Officers Planas and Dieudonne spent days cleaning out the stables to prepare it for the return of the Unit.
The level of horse riding skill among the officers varies from novice to experienced. Officer Christina Jacobs grew up riding horses, even bought one at the age of 17. "This has been a cool transition for me to get back into riding," she said. "I love police work, so to take a skill I had from before and apply it to my job is very rewarding."
Officer Planas had no horseback experience prior to joining the unit. His previous assignment was with the motorcycle unit. He said the skill he developed riding motorcycles prepared him, in a way, for horseback riding. "While I can't compare horses to motorcycles because horses have a brain, in terms of balance, the horse feels when you lean, so that did help," Officer Planas said.
The horses receive a lot of attention from the officers. The stables are cleaned twice a day and the horses are fed twice a day, and exercised at least once a day. The horses are also bathed regularly and receive routine veterinary care.
Officer Tara Edwards, currently assigned to the Kendall District, was a member of the Department's previous Mounted Patrol Unit, from 2003 until it was disbanded in 2009. She was asked to join the unit prior to the Free Trade Area of the Americas meeting in Miami, because of her extensive horse riding experience. She grew up riding horses, taught riding, and even has a background in veterinary care for equines.
Previous Free Trade of the Americas meetings in other cities, including Quebec City, Canada, had faced large protests, and the Unit was called on to monitor the event in Miami in 2003. After that event, Officer Edwards was asked to stay with the Unit and she gladly accepted the assignment. In addition to doing patrols in neighborhoods to deter crime, she participated in many events, including school career days, open houses at Districts, parades, and even mutual aid with the Key West Police Department during that city's popular "Fantasy Fest."
In recalling the disbandment of the Unit, she said, "It was very heartbreaking, we felt like it did a lot for the department, and for the public. What person isn't excited to see the horses?"
She was elated to learn that the Unit would return. "I never thought it would come back, so this is very surreal," Officer Edwards said. "Many times, they tried to bring it back, and were unsuccessful, but to finally get it up and running, that is terrific. The Unit has a huge public relations benefit for the department."
Leaving Miami-Dade County
You are now leaving the official website of Miami-Dade County government. Please be aware that when you exit this site, you are no longer protected by our privacy or security policies. Miami-Dade County is not responsible for the content provided on linked sites. The provision of links to these external sites does not constitute an endorsement.
Please click 'OK' to be sent to the new site, or Click 'Cancel' to go back.