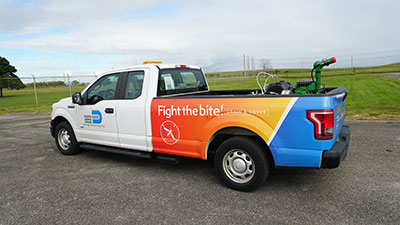 Miami-Dade County frequently performs ground spray treatments to eliminate mosquito larvae and adult mosquitoes, and works with the Florida Department of Health to provide treatment quickly and aggressively in response to suspected and confirmed cases of mosquito-borne illness.
Larvicide treatments are conducted using truck-mounted equipment to apply the organic pesticide Bti Bacillus thuringiensis israelensis, which eliminates mosquitoes in the larval stage. According to the U.S. Centers for Disease Control (CDC) and the Environmental Protection Agency (EPA), Bti is non-toxic to humans, pets, and animals, is a naturally-occurring bacterium found in soils, and has been used in mosquito control for more than 30 years. It is very effective when used as part of an integrated mosquito management program.
It is also commercially available in granules and dunks, as well as tablets, pellets, briquettes and in liquid form. Larvicide truck treatments are typically performed in the pre-dawn hours of the dates and in the areas listed below.
Adulticide treatments are also performed via truck during the overnight hours when adult mosquitoes are most active. Every effort is made to avoid exposing residents to pesticide applications. We now post the general areas where we will be providing treatment for adult mosquitoes on our Facebook and Twitter pages.
All of our trucks are clearly branded "Miami-Dade County Mosquito Control Division". All scheduled treatments are subject to change due to weather, time or other conditions beyond our control.
More information on the substances we use in our program.