Last Visited »
Hurricane Irma
As we continue our recovery and cleanup efforts, please visit the Emergency website for the latest information on openings and closings in Miami-Dade County.
Portable Mini-Storage Units
A portable mini-storage unit is a container designed for the storage of personal property that is placed on a homeowner's lot, parcel or tract, and is designed to be delivered or removed from the homeowner's site by truck or other street-legal vehicle.
A homeowner's residence includes a duplex, condominium unit and townhouse. Where applicable, the applicant is responsible to obtain homeowner's association approval prior to the installation of the mini-storage unit.
A Certificate of Use (CU) is required to place a portable mini-storage unit on a residential property.
A temporary portable mini-storage unit is not a storage shed, roll-off container, dumpster, cargo/shipping container or the trailer portion of a tractor-trailer.
Allowed Use
One temporary portable mini-storage unit may be placed on a fee simple lot, parcel or tract containing a single-family residence, subject to these conditions and limitations: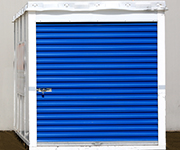 If the homeowner has a valid building permit for construction, i.e., the major remodeling of; significant addition to; or damage repair to the single-family residence on the lot, parcel or tract whereon the portable mini-storage unit is requested to be placed; or
If the homeowner is conducting work involving interior improvements not requiring a building permit; or
If the homeowner is using the portable mini-storage for moving purposes to move personal items or furnishings to another location.
Back to Top
Requirements
The unit cannot exceed 8 feet in width, 16 feet in length and 8 feet in height.
The unit must be placed at ground level and set back a minimum of 10 feet from the front property line and a minimum of five feet from all other property lines. Additionally, the location must comply with the safe sight distance triangle regulations.
Hazardous materials will not be placed in the unit.
No mechanical, plumbing or electrical installations or connections can be made to the unit. The unit must be kept clean and in good condition with no visible signs of deteriorations, weathering, discoloration, rust holes or breaks.
The property owner must attest to having property insurance for damages caused by windstorm.
The Certificate of Use (CU) must be clearly posted on the exterior of the unit.
The name, phone number and address of the company providing the unit must be on the unit, as well as the date the unit was placed on the site.
The unit must be locked at all times when it is not being loaded or unloaded.
Upon the issuance of a Hurricane Watch, the unit must immediately be removed or secured to withstand winds in excess of 100 mph.
The CU may be revoked if use of the unit results in an unsafe or unsanitary condition.
Back to Top
Applying for a Certificate of Use
The cost is $39.64 per certificate.
No site may have a portable mini-storage unit for more than 90 days total in a calendar year. If an extension past 90 days is needed, visit the Zoning Certificate of Use section at the Permitting and Inspection Center and request to meet with the supervisor.
Back to Top
Enforcement
Violations relating to portable mini-storage units are subject to the issuance of a Courtesy Warning Notice. Failure to comply will result in a fine, as specified in Section 8CC-10 of the Code of Miami-Dade County.
First Offense: Warning
Second Offense: $250, and fine goes up another $250 for each subsequent offense
Back to Top
Resources
Back to Top
Page Last Edited: Tue Feb 7, 2017 1:49:38 PM
building
Neighborhood/Building Enforcement
Contact Us
To report a possible neighborhood code violation
Call 311 or email [email protected].
For more information
Call the Neighborhood Regulations Division at 786-315-2552.
You are now leaving the official website of Miami-Dade County government. Please be aware that when you exit this site, you are no longer protected by our privacy or security policies. Miami-Dade County is not responsible for the content provided on linked sites. The provision of links to these external sites does not constitute an endorsement.

Please click 'OK' to be sent to the new site, or Click 'Cancel' to go back.