Our community's challenge to build a properly functioning public transportation system has been a source of frustration for so many of our residents. The lack of public transportation in Miami-Dade County has greatly limited not just the physical mobility of our residents, but their social and economic mobility as well.


Public transportation is a critical component to my administration's economic development strategy, and today, residents of Miami-Dade County can trust that we are addressing this shortcoming with the urgency it requires and making investments to improve all modes of public transit across our community.
In 2021, the much-anticipated Better Bus Network received a green light from the Board of County Commissioners after years of hard work from our community partners at Transit Alliance Miami. When implemented, the new network will improve and re-imagine the existing Metrobus network to better serve the community as a whole and attract new riders by increasing better access to frequent bus routes, providing faster service, and improving off-peak service.

We've also made tremendous progress in our development of the Underline, cutting the ribbon on phase 1 and beginning construction on phase 2.
Once completed, this project will transform 120 acres of county-owned land below the existing Metrorail guideway, from the Miami River to the Dadeland South Metrorail Station, into a world-class, multimodal urban trail, with a walkable and bikeable corridor that will improve connectivity between surrounding neighborhoods. The Underline will be built in three phases:
Phase 1, Brickell Backyard, started in December 2018. This segment of The Underline opened to the public on Feb. 26, 2021. Brickell Backyard is located between the Miami River and SW 13th Street – next to the Brickell Metrorail and Metromover stations.
Phase 2 began in the summer of 2021. This phase extends 2.14 miles from SW 13th Street to SW 19th Avenue and runs through the Vizcaya Metrorail Station.
Phase 3 will stretch seven miles from SW 19th Avenue to Dadeland South Metrorail Station kiss and ride facility. This phase is currently under procurement.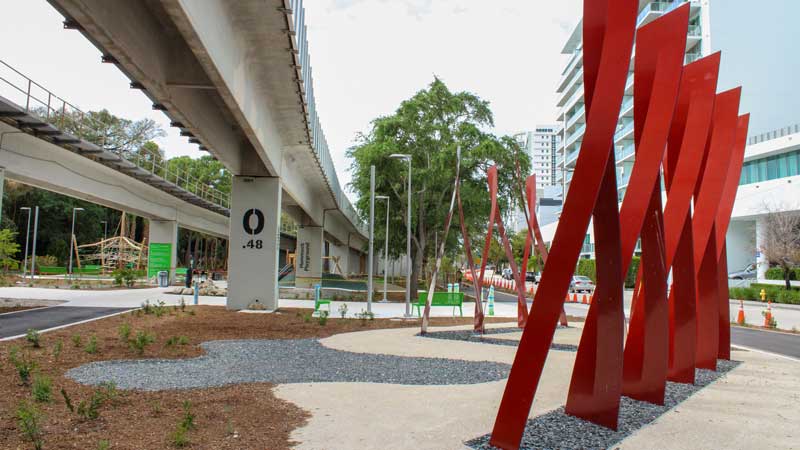 Miami-Dade County is committed to reducing carbon emissions and improving quality of life for communities and riders. The Department of Transportation and Public Works (DTPW) is currently testing for service the first all-electric Proterra ZX5 bus. This was the first out of a total of 75 buses to be delivered by U.S.-based electric vehicle company Proterra to Miami-Dade County. This project builds on the County's commitment on transportation electrification. Upon the full delivery of the vehicles, DTPW will run one of the largest fleets of 40-foot battery-powered electric buses in the United States. The other 74 electric buses, manufactured in the US, are slated to start arriving in Miami later this year (2022) and they will be ready to roll on the streets after completion of post-delivery inspections.


On June 4, 2021, Miami-Dade County's Department of Transportation and Public Works (DTPW) broke ground on the South Dade TransitWay Corridor Rapid Transit Project. One of the six Strategic Miami Area Rapid Transit (SMART) Plan corridors. The project includes the construction of 14 new BRT stations with air-conditioned vestibule, real-time bus arrival information, off-board fare collection (like on Metrorail), free wi-fi, bicycle amenities, and CCTV cameras. Stations will be designed with center boarding platforms, eliminating the need to step up onto the vehicles, allowing for quicker boarding and easier access. The remaining existing 16 bus stops will also receive upgrades to both northbound and southbound shelters. In 2020, the FTA awarded DTPW a $99.9 million grant. This is the largest Federal Capital Investment Grant that Miami-Dade County received since the Metromover extension in 1993 and the original South Miami-Dade Busway in 1999. The total project cost of the TransitWay construction is an estimated $300 million, which is funded with a $100 million investment by three partnering agencies: Miami-Dade County, the Florida Department of Transportation (FDOT), and the Federal Transit Administration (FTA).
Despite the challenges of the pandemic, PortMiami broke another cargo record with an OPEN channel and no ship congestion. It recorded 1,254,064 twenty-foot equivalent units, up 17.6%, the busiest year in cargo activity in the Port's history. Thanks to our county's investments of a deep channel, Super-post-Panamax cranes, tunnel and rail, shippers can use PortMiami easing the shipping crisis and maintaining global competitiveness for our nation.
In collaboration with our cruise partners, the CDC, and local safety and healthcare agencies, we successfully restarted cruise passenger operations keeping our workers employed while healthy and safe. We are proud that our efforts to make PortMiami 'shore power ready' moved forward. We thank the commitment of our partners at Carnival Corporation, Disney Cruise Line, MSC Cruises, Norwegian Cruise Line Holdings, Royal Caribbean Group, Virgin Voyages, and the collaboration of FPL. Our goal is to continue ensuring PortMiami is a leader in sustainability, shaping a more resilient cruise industry that prioritizes the protection and safety of our environment.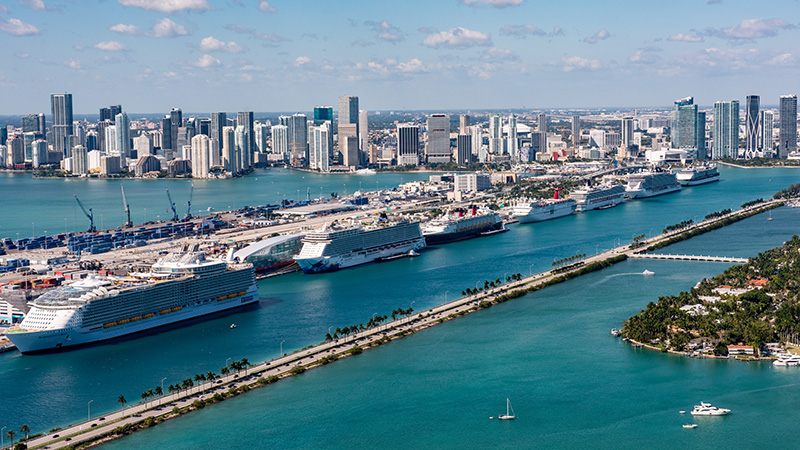 The Miami-Dade Water and Sewer Department (WASD) has kicked off Connect 2 Protect, a program that diminishes risks to public health, public and private property, and the environment from rising groundwater caused by sea-level rise. Through Connect 2 Protect, WASD is implementing a septic-to-sewer project in the Little River Adaptation Action Area. The Little River sewer infrastructure expansion is funded, in part, by $4.4 million awarded to WASD by the Florida Department of Environmental Protection (FDEP).
The FDEP funds are being combined with over $18 million from the County's Building Better Communities General Obligation Bond for investments in the Little River Area. Through Connect 2 Protect, 340 of the properties most vulnerable to septic system failure in the Little River Action Area will be connected to the County's sewer infrastructure. In addition, the County will begin the installation of public laterals for approximately 40 homes in the coastal section of Little River by the end of January. By connecting vulnerable properties to sewer infrastructure through Connect 2 Protect and other work underway, such as the Commercial Corridors Septic to Sewer Program and the Ojus Sanitary Sewer Expansion Project, we will help ensure a cleaner and healthier Biscayne Bay.