Soaring leadership reaches new heights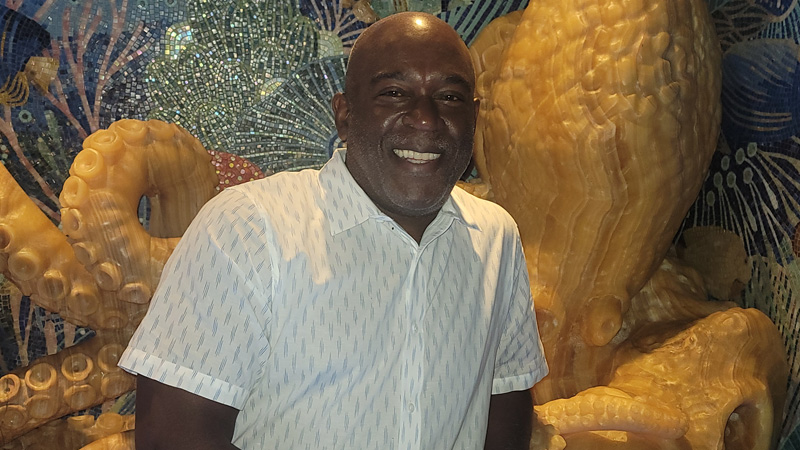 Aviation Department's Chief of Innovation Maurice Jenkins is energized by daily challenges and welcomes everyone he encounters as he walks through Miami International Airport (MIA) to start his day. He has been with the County for more than 30 years.
"I never have the same day twice," Jenkins said. "I want to do things right. That means adding value to our organization, employees, passengers and consumers of our many services."
Jenkins was honored with the
Best Airport Innovation Leader Award by Airports Council International World and Amadeus
. He is proud of his work at MIA and how it impacts the global ecosystem. "Together, we help four billion people travel globally, safely and securely. That number will grow to eight billion in the next 10 years," he added. "It takes collaboration from everyone across the world."
"I'm fortunate to be a member of the County family and participate in this fast-paced industry. You must stay ahead, look forward and always be prepared to change and adapt."
Jenkins has spearheaded cutting-edge projects. These included integrating new technology in MIA's South and North Terminals and new system implementations like biometrics and virtual queuing. These innovative technologies demonstrate his technical understanding and dedication to serving the residents of Miami-Dade County.
"We have the same needs and objectives as our industry partners. Delivering great service, cost containment, protecting the environment and doing so with top morals and ethics is paramount. I strive and thrive to achieve these all," Jenkins said.
Tackling new challenges also extends into his downtime. He enjoys traveling the globe, trying new things, cooking and playing golf. He has also jumped out of an airplane, proving he's quite fearless.
According to Jenkins, it is important to go beyond the confines of your comfort zone. "You have to reach further and go farther. That includes your legacy. It is what you have done, not amassed, that matters. I make time to give back to my community. That can mean mentoring, raising money or raising awareness. The future depends on us participating and making a difference on and off the job."
Learn more about Maurice Jenkins
in this podcast
.
If you or another County employee has a story or example of great service, we want to hear about it.

We work with departments to identify and assist with workforce issues including a renewed emphasis on performance management and standardized discipline policies, employee development and knowledge transfer, ongoing evaluation of workplace rules, and implementation of workforce metrics to measure and analyze overtime utilization, absenteeism, appeals, payroll issues, and employee development needs.
We coordinate negotiation of collective bargaining agreements and develop viable and sustainable healthcare options. Employee programs include training, wellness and diversity.
We provide residents and employees with a means to have discrimination cases heard and resolved through investigation, mediation, and appeals.