Graphics designer creates winning license plate design that supports Biscayne Bay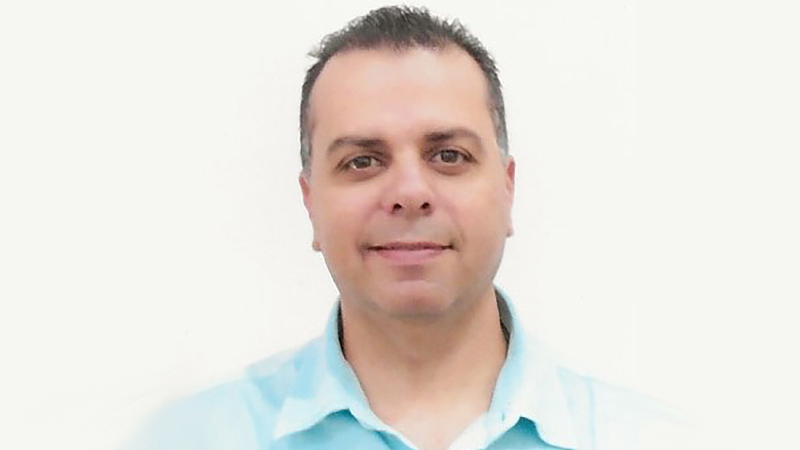 Protect Biscayne Bay. That's the message that can be gracing the license plates of Floridians all over the state. The winning design was created by Miami-Dade County's very own Jaime De Torres, a graphics designer in the Communications and Customer Experience Department (CCED). A longtime County employee, De Torres is thrilled that his silhouette of a mangrove and a Stiltsville house against a glowing orange sunset was the choice of voters after the proposed selections were narrowed down to three options.
"Jaime's creativity is a constant source of pride for me and the whole County as he continues to produce numerous winning designs," said Miami-Dade County Mayor Daniella Levine Cava. "He is a wonderful example of a longtime County employee who consistently brings the highest level of care and commitment to every single task."
The project came to CCED's Creative and Branding Services Division after bipartisan legislation in Tallahassee was signed into law in the summer of 2021, allowing for the creation of the tag. Proceeds from sales will be distributed to The Miami Foundation to support Biscayne Bay habitat restoration, pollution prevention, and environmental education and awareness.
Creative and Branding Services Manager Karla Echeverria explained the process: "We discuss the scope of work that is provided to us by the client, and we do a brainstorm session with the team discussing the elements and colors they would like incorporated into the design. In this case, I assigned three designers to come up with a variety of options. The Miami Foundation, along with Mayor Levine Cava and the County's Chief Bay Officer Irela Bague helped narrow it down to three choices, which were then put out to the public for voting."
"This project represents one of the most exciting community engagement efforts for our department. We are thrilled to be part of making a difference through this custom license plate that highlights one of South Florida's most vital treasures," said CCED Director Inson Kim.
On Nov. 6, 2021, Mayor Levine Cava, Bague, and other local officials unveiled the winning design at the Deering Estate. The next step to get the license plate into circulation is to get 3,000 of them purchased with pre-sale vouchers.
A grateful De Torres said, "It feels great knowing that the community chose my design. Biscayne Bay is one of our most precious natural resources, and I tried my best to highlight some of the features that make it unique and worth protecting."
To help achieve the goal of 3,000 pre-sale vouchers for the new license plate that will raise funds for education and conservation, place your order now.
If you or another County employee has a story or example of great service, we want to hear about it.

The Human Resources Department provides centralized personnel services for all County departments.
We work with departments to identify and assist with workforce issues including a renewed emphasis on performance management and standardized discipline policies, employee development and knowledge transfer, ongoing evaluation of workplace rules, and implementation of workforce metrics to measure and analyze overtime utilization, absenteeism, appeals, payroll issues, and employee development needs.
We coordinate negotiation of collective bargaining agreements and develop viable and sustainable healthcare options. Employee programs include training, wellness and diversity.
We provide residents and employees with a means to have discrimination cases heard and resolved through investigation, mediation, and appeals.