ISD Fleet Management Division helps families of Surfside Champlain Towers Collapse victims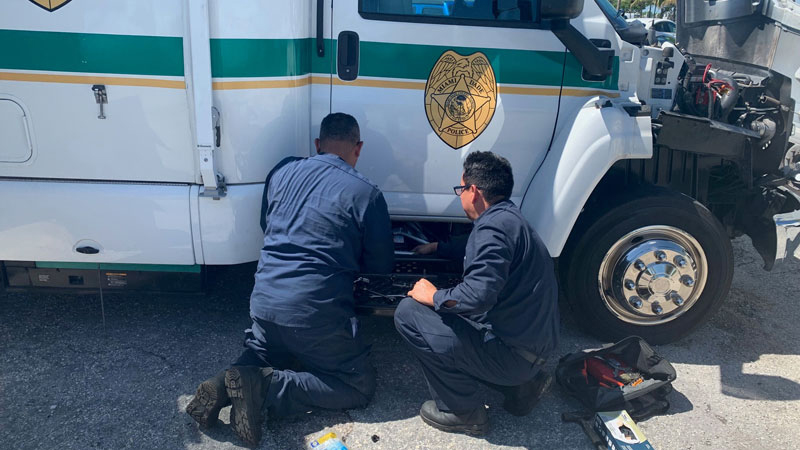 The collapse of the Champlain Towers of Surfside Florida will have long lasting impacts within our South Florida Community. During this time, several local, state, and federal agencies partnered to conduct search and rescue efforts and provide support to help bring closure to the surviving families members who lost loved ones as a result of this tragedy.
All factions of county government rendered services in various capacities to support this mission. On Friday, July 2, 2021, upon request from the Office of Emergency Management, members of the ISD Fleet Management Division (FMD) were assigned to provide transportation shuttle services to support the family members of those lost to the Surfside Champlain Towers collapse. Services were to be provided until a contract could be established to privatize transportation services.
To accomplish this task, a team was deployed to Surfside to provide logistical support and chauffeur the 15-passenger vans utilized between two shifts to support the victims' family members. The team consisted of Division Director Alex Alfonso, Assistant Division Director Pete Moolah, Fleet Service Managers Yoamel Zequeira and Chris Digiacomo, and 18 additional Fleet employees, to include Jorge Prieto, Rene Herrera Jr, Daniel Gasca, Guillermo Pino, Bayron Rios, Carlos Gonzalez, David Castellanos, Emilio Orbis, Fernando Mateos, Fidel Hernandez, Flor Mercado, Orley Gonzalez, Steve McInntosh, Walter Ortiz, Anthony Figueiral, Ariel Rodriguez, Amaury Amarante, and John Orejuela.
This service allowed visiting family members, who traveled from various parts of the world seeking news regarding the status of their loved ones, to be easily transported to various staging areas to receive services, support, and critical briefings that detailed the various stages of the search and rescue mission provided by various first responders. Especially during a difficult time that was extremely disorienting and surreal for them, these services were greatly appreciated.
Although the initial group of ISD employees conducted the shuttle services during the long holiday weekend, they were appreciative for the opportunity to help their community, especially during such a critical time. The ISD Fleet Management Team would like to particularly recognize Mr. John Orejuela, one of the employees involved in the transportation of the victims' families, as he felt compelled to help others during their time of need despite the fact that he had recently lost three of his close family members to the Coronavirus in Brazil, including his sisters, Gloria, 27 years old, and Vanessa, 39 years old.
Though heroism is usually reserved for those who are recognized by the media, the actions of these members of the ISD family truly demonstrated such recognition.
If you or another County employee has a story or example of great service, we want to hear about it.

The Human Resources Department provides centralized personnel services for all County departments.
We work with departments to identify and assist with workforce issues including a renewed emphasis on performance management and standardized discipline policies, employee development and knowledge transfer, ongoing evaluation of workplace rules, and implementation of workforce metrics to measure and analyze overtime utilization, absenteeism, appeals, payroll issues, and employee development needs.
We coordinate negotiation of collective bargaining agreements and develop viable and sustainable healthcare options. Employee programs include training, wellness and diversity.
We provide residents and employees with a means to have discrimination cases heard and resolved through investigation, mediation, and appeals.