Water Distribution team recognized with Pebble Award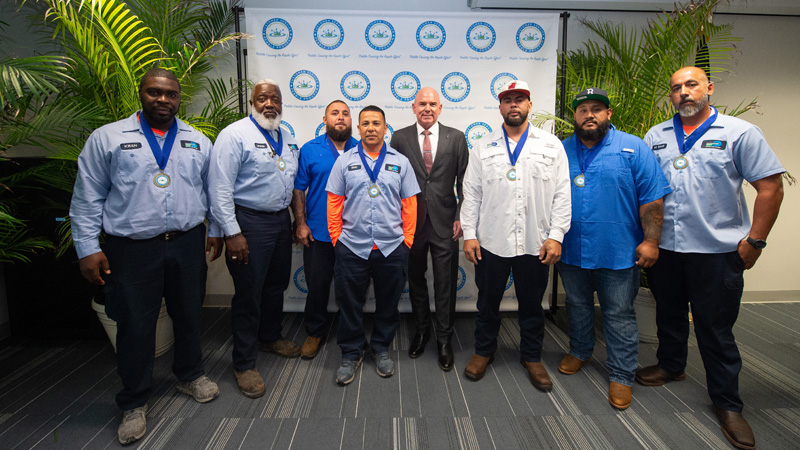 Unexpected difficulties can arise on the job and swift action can make the difference between life and death.
On March 23, the Water and Sewer Department's Water Distribution team repaired a one-inch service line in South Dade. Pipefitter Kevin Herrera used a gas saw to cut a one-inch galvanized water line. The corroded pipe was situated at an angle. As Herrera stood over it and operated a gas saw, he struck a pipeline bit that dislodged a saw blade from the pipe. He lost control of the saw, which hit him directly above his left knee. Severely injured, Herrera called for help.
His coworkers responded quickly and pulled him from the ditch. They removed the boot he was wearing and the team began taking action to control the excessive bleeding. Some team members removed their shirts and belts to use as tourniquets above and below the deep leg laceration to help slow blood loss.
They could not contact 911 emergency services, so the team sped into action and transported Herrera in a pick-up truck to Jackson South Trauma Center. During the ride to the hospital, Herrera's injured leg remained elevated by one team member in the passenger's seat. They arrived in just 15 minutes.
At the hospital, Herrera rushed into surgery. Trauma staff said Herrera was in grave condition when he arrived. Thankfully, the surgery was successful and everyone agreed the actions of Herrera's co workers had been instrumental in saving his life.
The Water Distribution team was recognized for their heroic response with the Water and Sewer Department's Pebble Award for the First Quarter by Director Roy Coley.
Team members included:
Pipefitter Supervisor Ronnie Hernandez
Pipefitter Supervisor Harold Martinez
Heavy Equipment Operator Jesus Zapata
Maintenance Repairer Roberto Olivares
Maintenance Repairer Marcos Saud
Pipefitter Kwan Boston, Jr.
Semi-Skilled Laborer Lorenzo Nelson
Not pictured is Kevin Herrera
The team is happy to have him healthy, safe and back at work.
A ceremony took place on June 27
commemorating their heroic actions. Congratulations to a remarkable group.
If you or another County employee has a story or example of great service, we want to hear about it.

We work with departments to identify and assist with workforce issues including a renewed emphasis on performance management and standardized discipline policies, employee development and knowledge transfer, ongoing evaluation of workplace rules, and implementation of workforce metrics to measure and analyze overtime utilization, absenteeism, appeals, payroll issues, and employee development needs.
We coordinate negotiation of collective bargaining agreements and develop viable and sustainable healthcare options. Employee programs include training, wellness and diversity.
We provide residents and employees with a means to have discrimination cases heard and resolved through investigation, mediation, and appeals.