As Miami-Dade County's primary source of drinking water, the Biscayne Aquifer is susceptible to saltwater intrusion.
With increasing water demands, a growing population and the effects of sea level rise, water conservation is crucial to preserve the aquifer and make it more resilient to these pressures.

View this Story Map on Sea Level Rise in Miami-Dade County for an overview of the impact of sea level rise and what Miami-Dade is doing to adapt. In the story map, scroll down and click on the Saltwater Intrusion tab to learn how conserving water can reduce this threat.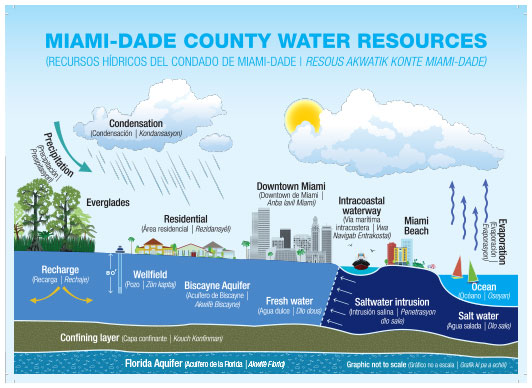 Miami-Dade County developed a 20-year Water Use Efficiency Plan implementing strategies to promote water conservation to residents. These strategies include financial rebates promoting the use of high efficiency fixtures in homes and businesses and conducting outreach throughout the county educating residents on the importance of conserving water.
In addition, Miami-Dade County has enacted water use efficiency-legislation including permanent landscape irrigation restrictions, ordinances requiring Florida-Friendly landscaping in new construction and in right-of-ways, and the installation of high-efficiency plumbing fixtures in new construction.
What can you do to help? Take a shorter shower. Turn off the faucet when brushing your teeth and shaving. Install high-efficiency fixtures in your home. Think about your water use. These efforts will be effective in reducing your water use while developing a resilient water supply into the future mitigating the effects of saltwater intrusion.