Skip to Primary Content
Please note that miamidade.gov no longer supports Internet Explorer. We recommend upgrading to the latest Microsoft Edge, Google Chrome or Firefox.
Imagine a Day Without Water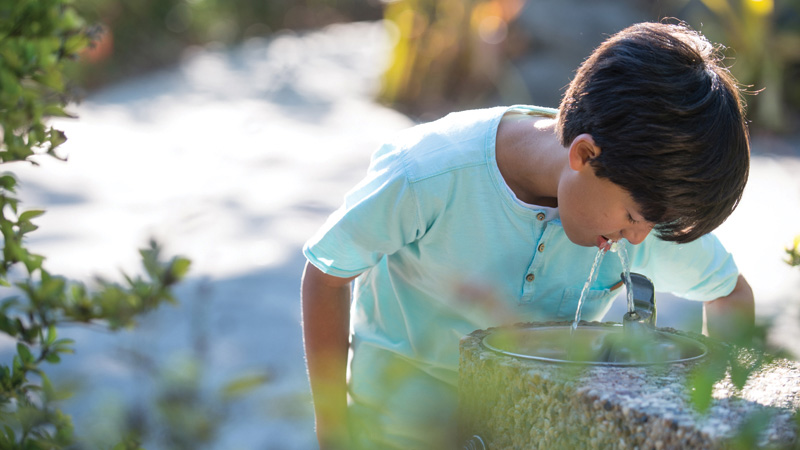 Miami-Dade County Mayor Daniella Levine Cava believes it's never too early to encourage people to preserve our natural resources especially water. In observance of Imagine a Day Without Water, Mayor Cava reads Hey, Water by Antoinette Portis to our youngest residents where they will discover water in nature, in weather, in their home, and even inside their own body. Water comes to life in this story and kids will find excitement and joy in water and its many forms.
Imagine a Day Without Water
Written by Miami-Dade Water and Sewer Department Director Roy Coley
Did you know that the Miami-Dade Water and Sewer Department (WASD) produces more than 300 million gallons of drinking water a day?
That is the amount required to meet the needs of our residents and businesses. We serve more than 2.3 million customers, over 200,000 businesses, and 100,000 plus daily visitors. Our population is growing at a rapid pace, and we must recognize that with population and business growth, so will the demand for drinking water.
How will we meet this demand?
We meet the demand through smart investment. Investing to protect our water source, and all its infrastructure, provides real returns. Our drinking water comes from the Biscayne Aquifer. The fresh water is located approximately 100-300 feet underground.
The aquifer is recharged mostly by rain. The water quality is high in terms of safety and aesthetically pleasing. However, the aquifer is vulnerable to contamination and saltwater intrusion. Everyone should do their part to protect it, as we risk losing it, with no replacement.
To prepare for the future, Miami-Dade County is investing billions of dollars in its water resources infrastructure. It is a lot of money - it's your money.
The money we spend today on infrastructure will save us from spending more in the future. If we do not invest to protect our Biscayne Aquifer and it becomes contaminated or saltwater intrudes, the next option will be expensive and energy intensive Reverse Osmosis water purification.
The quality of our drinking water would be less, would cost us much more, and we would be using more electricity.
Looking for a way to help protect our drinking water? I ask that you continue to support the department's on-going investment projects tasked with upgrading and improving our water infrastructure.
Water is Essential to Our Daily Life
Without it, hospitals would close and firefighters couldn't put out fires. Food production would cease as farmers couldn't water their crops.
What do we use water for?
Coffee
Cook
Flush the toilet
Keep us hydrated
Laundry
Put out fires
Shower
Wash your hands
Wash your teeth
Water your plants
Miami-Dade residents get safe, quality water for less than a penny a gallon straight to their homes and businesses.
The primary source of drinking water is the Biscayne Aquifer. Miami-Dade County's Water and Sewer Department, the largest water and wastewater utility in the Southeastern United States, serves more than 2.6 million people per day and ensures the best water quality thanks to:
Three water treatment plants
More than 15,000 miles of underground pipes
More than 150,000 drinking water tests per year to ensure compliance with federal, state and local drinking water standards
Every year the department participates annually in the National Value of Water Coalition's Imagine a Day Without Water Campaign to create awareness within the community.
Leaving Miami-Dade County
You are now leaving the official website of Miami-Dade County government. Please be aware that when you exit this site, you are no longer protected by our privacy or security policies. Miami-Dade County is not responsible for the content provided on linked sites. The provision of links to these external sites does not constitute an endorsement.
Please click 'OK' to be sent to the new site, or Click 'Cancel' to go back.