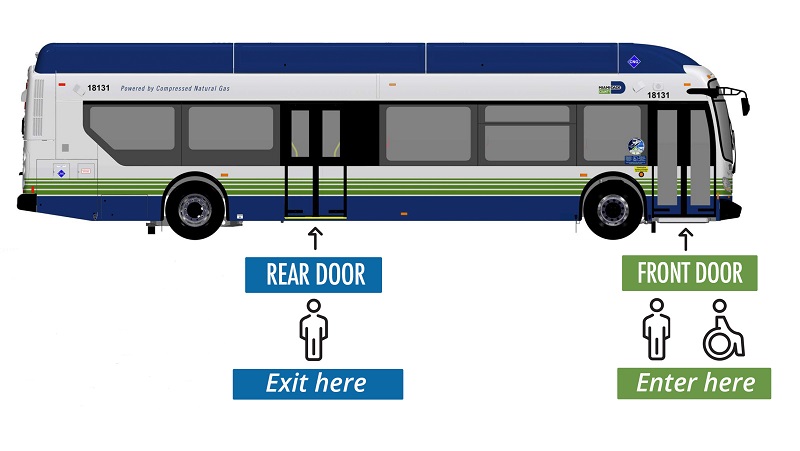 Although Miami-Dade Transit fares and parking fees remain suspended at this time, passengers are once again required to use the front door to board and the rear door to exit.
This will help to create a one-way circulation path and help facilitate social distancing. This change started on Monday, Feb. 15.
Remember, if you're riding with us please keep your face masks on at all times (per federal mandate).
Rear door boarding for Metrobus was first introduced as a requirement on March 22, 2020 due to the ongoing coronavirus (COVID-19) pandemic to limit non-essential interactions.
As an added safety precaution for its drivers and riders, the department began installing full polycarbonate enclosures for the operator's cabin within every Metrobus last summer. The shield was converted from the existing partial enclosure to become a full enclosure to better protect operators.
The purpose of the extended enclosure is to further isolate the operator's cabin from the public and increase safety protection for both passengers and employees during the coronavirus (COVID-19) pandemic. This full enclosure will limit unnecessary interactions between operators and passengers.
Large hand sanitizer bottles have also been installed on board every transit vehicle, including transit buses. The sanitizer units were originally installed in the rear door so passengers can easily access as they enter and exit the bus; however, those units have now been re-installed at the front area of the Metrobus vehicles.