Skip to Primary Content
Please note that miamidade.gov no longer supports Internet Explorer. We recommend upgrading to the latest Microsoft Edge, Google Chrome or Firefox.
Miami-Dade County monitoring Biscayne Bay fish kills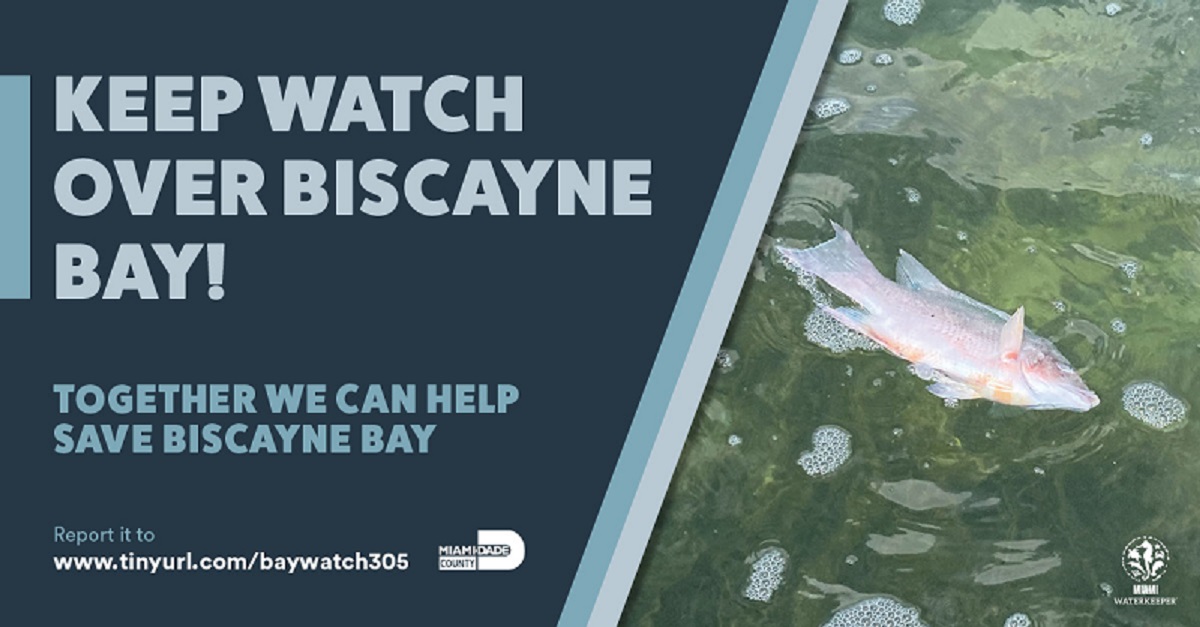 How is Miami-Dade County monitoring the fish kill?
The Department of Regulatory and Economic Resources, Division of Environmental Resources Management (RER-DERM), was made aware of the sighting of dead fish the night of September 5 and responded the following morning. Staff inspected, via land, area within the 79th Street Basin (San Souci, North Bay Village, along the 79th Street Causeway, and both east and west side of the Bay) and documented about two dozen dead fish, mostly bottom dwellers such as pufferfish, in the vicinity of Normandy Shores. Additionally, DERM is collaborating with the Florida Department of Environmental Protection Biscayne Bay Aquatic Preserves (BBAP), who are conducting fieldwork today and can provide additional information. Fish carcasses have been observed from Biscayne Point to south of the Julia Tuttle Causeway, along Miami Beach. This area may not encompass all the locations impacted by the fish kill.
RER-DERM serves as the lead agency in the event of an environmental emergency, such as a fish kill or algal bloom. The County will continue to work with the affected municipalities, to procure services from their vendors to recover and dispose of carcasses. The County will support these efforts as needed and has contacted additional vendors should additional support be needed, with County staff able to supplement efforts as well. The biomass should be removed as soon as possible as decomposition can exacerbate poor water quality conditions and contribute additional nutrients and bacteria into Biscayne Bay.
How many, where and what kind of fish were affected?
Between DERM and BBAP, they have observed 250 dead fish as of September 6, mostly bottom-dweller fish such as puffer fish. They observed approximately 150 dead fish on September 7. Fish carcasses have been observed from Biscayne Point to south of the Julia Tuttle Causeway, along Miami Beach, North Bay Village and Normandy isles.
What additional monitoring is being done to determine the cause?
For the latest updates, read our press releases.
What actions can the public take?
The public is encouraged to report any unusual signs of aquatic wildlife in distress or algal blooms immediately to [email protected], 305-372-6955 or online.
We further ask the public to consider these actions:
Stop using fertilizers and limit pesticides use. Learn more about our fertilizer ordinance
Reduce the use of plastics and polystyrene
Pick up trash and dog waste
What do we know about possible causes?
High air and/or water temperatures, salinity, and other factors can contribute to a lowering of dissolved oxygen available in the water column as well as heavy rain events resulting in discharges of large amounts of stormwater and canal discharges rich in nutrient pollution and other contaminants from fertilizers, fuels, oils, plastic, and trash. This combination of factors fuels the growth of algae and bacteria, causing low dissolved oxygen (DO) levels. DO is the amount of oxygen available for all life in the water for both plants and animals. The main nutrients that cause fish kills and algal bloom events are phosphorous and nitrogen coming from sources such as sewage leaks, septic tanks, stormwater runoff, canal discharges, and fertilizer overuse.
How does this compare with last summer's fish kill?
DERM, DEP, and FIU are currently working to characterize water quality in the basins where the fish kill was observed and document the spatial extent of the fish kill across Biscayne Bay. Last summer, over one to two days, thousands of bottom-dwelling fish such as pufferfish comprised the fish kill, primarily in the Julia Tuttle Basin (the basin between the 79th Street Causeway and the Julia Tuttle Causeway). Species are similar; the location in North Bay is similar, but this fish kill seems concentrated on the east side along Miami Beach, as opposed to last year's fish kill, which was along the mainland and mostly in the vicinity of Morningside Park. Conditions are somewhat different in that water temperatures are lower, DO in the Julia Tuttle basin have been higher, and salinities lower than last year's fish kill. However, FIU did document a drop in DO in the 79th Street basin (the basin where today's fish kill was reported, located between the 79th Street basin and the 125th Street causeway) over the past few days, even though temps are lower than they were, generally, last summer. DERM and its partners are working together to better understand the physical and chemical characteristics of the water, considering water management activities as a result of the rain.
Of note but likely unrelated given the spatial scale of the fish kill are two sanitary sewer force main breaks in Miami Beach (Venetian Islands and Purdy Ave, respectively) as well as a diesel/gas sheen on the water spanning the width of the waterway along the canal that runs through Normandy Isles.
Can fireboats be used to help aerate the low oxygenated areas of the bay?
Deployment of fireboats to aerate the Bay is expected to be of limited value because it does not address low oxygen levels throughout water column, according to RER-DERM. The concern is that oxygen is also needed at the mid and bottom depths of the Bay, and the aeration of the surface water would not help bottom-dwelling fish which represent the majority of species we are seeing during fish kills. Unfortunately, the fireboat thrusters/hoses cannot be directed towards the bottom of the Bay because this can create substantial turbidity plumes and can destroy the Bay's bottom habitats such as seagrass.
LEARN MORE
Leaving Miami-Dade County
You are now leaving the official website of Miami-Dade County government. Please be aware that when you exit this site, you are no longer protected by our privacy or security policies. Miami-Dade County is not responsible for the content provided on linked sites. The provision of links to these external sites does not constitute an endorsement.
Please click 'OK' to be sent to the new site, or Click 'Cancel' to go back.