Approach 5: Expand and Protect Green and Blue Spaces
Land use programs and policies in Miami-Dade County that maintain healthy natural resources help address climate change.
Miami-Dade County is internationally recognized for its natural areas, including its coastal and freshwater wetlands, marshes, hardwood hammocks and globally-imperiled pine forests. Biscayne Bay and the Everglades are such unique ecosystems that two National Parks, a National Marine Sanctuary, Florida aquatic preserves and water conservation areas have been established within Miami-Dade.
This is the only place in the U.S. where this occurs in a single county. These land and marine ecosystems can absorb and store carbon dioxide, a greenhouse gas, and can also reduce other types of pollution. Coastal habitats absorb carbon at a rate ten times greater than mature tropical forests. They also store three to five times more carbon per equivalent area than tropical forests.
While agriculture does not maintain ecosystems in their natural state, regenerative agricultural practices can be utilized to enhance carbon storage in the soil, and tree canopy increases shade and cooling, and reduces urban heat.
Many stakeholders in Miami-Dade County work through regulation, monitoring, habitat restoration and acquisition, and management of natural and agricultural areas to protect, maintain and enhance blue and green spaces and the benefits they provide.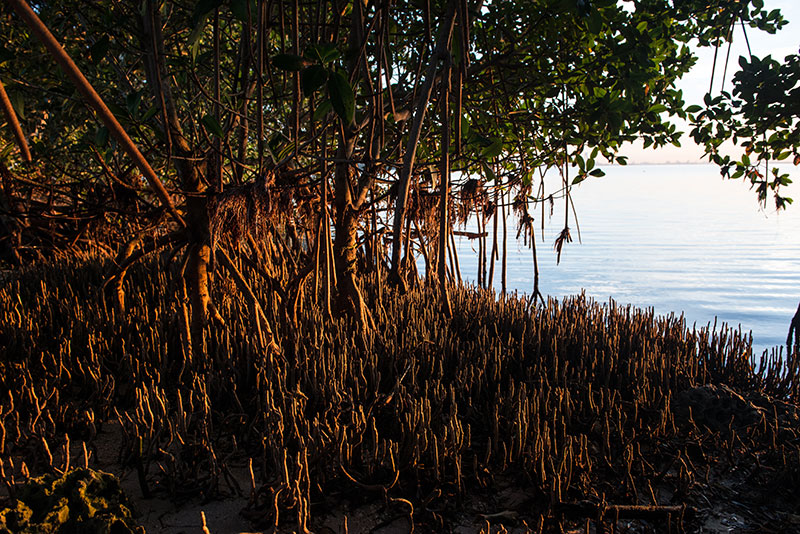 Mangroves, wetlands, and seagrass are essential to reducing climate change and associated negative climate change impacts such as rising temperatures and sea levels.
Eighty-three percent of the global carbon cycle is circulated through the ocean, and coastal habitats account for half of the total carbon sequestered in ocean sediments despite their small area. A 2011 study found that urban forests, trees, and parks in Miami-Dade County, sequester over 550,000 metric tons of carbon (over 2 million tons CO2e) every year.
Shade from urban tree cover also reduces cooling costs, saving residents and businesses money on air conditioning costs, while reducing the need for additional energy production.
Maintaining natural areas has a tremendous amount of co-benefits. They lead to greater community health by increasing opportunities for exercise and recreation and have been demonstrated to reduce stress and the risk of heart disease.
These natural resources also help keep our soil, air and water cleaner, which also provides significant health and economic benefits. Natural resources also increase property values and economic vitality in the tourism, fisheries, farming and recreational sectors.
Current Miami-Dade County programs, led by multiple departments, help maintain ecosystems that protect against climate change by absorbing and storing carbon.
In addition to coordinating and implementing Comprehensive Everglades Restoration projects, the County also manages programs for Environmentally Endangered Lands, Natural Forest Communities protection, ecosystem restoration and enhancement, and urban tree canopy restoration, including Adopt-a-Tree.
Unfortunately, it is very time-consuming and difficult to estimate ecosystem acreage and functionality loss or restoration, and therefore also difficult to calculate carbon absorption and storage benefits, which vary per ecosystem type.
Additional actions that would expand and protect blue and green spaces in the future may include:
Increase urban tree canopy coverage to 30% communitywide, and to 50% for all County properties outside the Urban Development Boundary.
Update regulations to protect specimen trees.
Restore historically-filled, County-owned coastal wetland areas whenever possible.
Restore habitats of seagrass and submerged aquatic vegetation whenever possible.
Prioritize acquisition by Miami-Dade County and its partners of wetlands necessary for implementation of the Comprehensive Everglades Restoration Plan, and within an Environmentally Endangered Lands acquisition footprint.
Improve implementation and enforcement of County environmental regulations to reduce net loss of wetland area and function within Miami-Dade County.
Improve use of appropriate vegetative material removed from natural areas on County-owned lands and Environmentally Endangered Lands as mulch and make it available to the public free of charge.
Improve protection and management of Miami-Dade County properties that qualify as environmentally endangered, or as natural forest community, by transferring appropriate areas/land to the Environmentally Endangered Lands Program.
Require landscape re-certification every five years for maintenance of landscaping within 300 feet of a canal feature that flows into Biscayne Bay.
Conduct feasibility studies consistent with existing resource protection requirements for carbon sequestration of shellfish, sponge, and macro-algaculture industries.
Develop and adopt a strategy to expand local forests in Miami-Dade County through inter-agency partnerships.
Develop a policy, based on area impacted, to ensure that County-approved development results in a net increase to green infrastructure by the development's completion date.