Miami-Dade County's Climate Action Strategy is a communitywide strategy to cut greenhouse gas emissions, create jobs, improve health and make life better. Cleaner air, water and land plus new jobs in the low-carbon economy will save businesses and residents money and raise the quality of life. As a member of the Race to Zero, the County aims to reach net-zero emissions by 2050 and keep global warming below +1.5° Celsius. This will take ambitious goals and new ideas from across Miami-Dade.
This draft Climate Action Strategy lays out a framework for County government and the community to achieve a 50% reduction in greenhouse gas emissions by 2030 (from a 2019 baseline) by transforming the way we use energy and the way we get around.


Read the Climate Action Strategy draft
Get Involved
Join the Office of Resilience for online workshops to learn how climate change is affecting our community, what we are doing about it, and how you can get involved.

The Climate Action Strategy will be a community plan and your input is vital for success. Make your voice heard, take the survey.
TAKE THE SURVEY

Join us for one or all the community meetings. Your knowledge and suggestions will help bring plan to life, so we encourage you to take part in the process.
Sign up and stay informed about the Strategy and upcoming meetings.

Miami-Dade County provides equal access and equal opportunity in employment and does not discriminate on the basis of disability in its programs or services. To request materials in accessible format, a sign language interpreter, and/or any other accommodation to participate in any County-sponsored program or meeting, please contact Alain Donderiz at 786-442-4778 or send an email to [email protected] in advance of the meeting to initiate your request. TTY users may also call 711 (Florida Relay Service).
Equity & Engagement
Timeline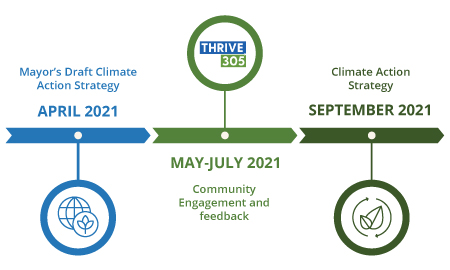 Public Participation Process
Public input will be requested on:
Actions within each approach
Integration of equity
Annual reporting
Stay tuned for announcement of public meetings/workshops times and dates.
Please provide feedback on the Draft Climate Action Strategy to [email protected].
Learn More About Equity & Engagement
Emissions Inventory
Where We Are Now
Miami-Dade County has long been a recognized leader in its commitment to reduce greenhouse gas (GHG) emissions, and has implemented numerous programs and policies over the years.
The results of the latest Countywide inventory indicate that GHG emissions have increased 43% between 2008 and 2019. These changes have largely been driven by increases in emissions from the Transportation sector.
The Climate Action Strategy refers to 2019 emissions to provide crucial context on historical performance and future targets for each of the areas and approaches. These emissions inventories serve as critical goal-setting and measurement tools to help the County support targeted, data-driven interventions across all sectors of our community and economy.
Meeting the ambitious emissions reductions goals laid out in this strategy requires a comprehensive understanding of emissions reduction potentials of various activities.
Emissions Overview by Sector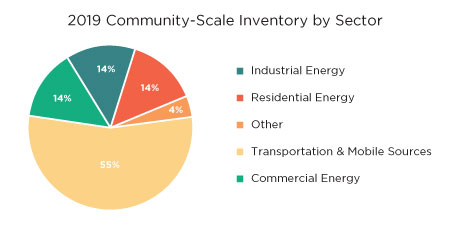 The Office of Resilience's mission is to lead Miami-Dade County to a resilient and environmentally sustainable future by identifying vulnerabilities, coordinating stakeholders and facilitating innovative solutions.