Approach 6: Convert Waste to Energy
Miami-Dade's Department of Solid Waste Management and Water and Sewer Department are the largest providers of waste and water and wastewater services in the county. The services they provide are essential for community, environmental and economic sustainability.
For decades, both have burned waste to produce energy. By investing in new, more efficient facilities they could burn more waste, create more energy and avoid harmful methane emissions.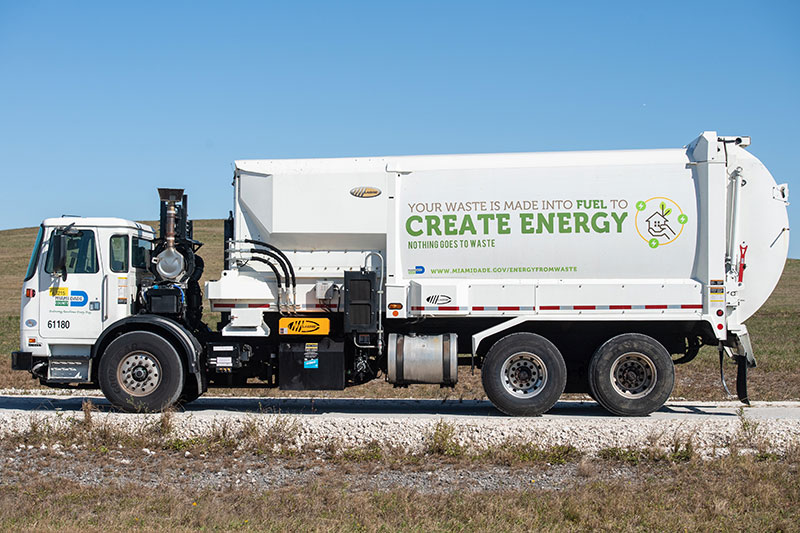 Miami-Dade County's Department of Solid Waste Management (DSWM) Resources Recovery Facility (RRF) burns up to 4,000 tons per day of municipal solid waste, producing up to 77 megawatts of electricity. Approximately 22,000 tons of ferrous (steel) metal and 2,000 tons of non-ferrous (tin, copper) metal are recovered and recycled. Through a collaboration with the University of Florida, DSWM has determined it is feasible to use bottom ash produced at RRF that is currently landfilled in cement production.
DSWM's diesel fleet of trucks will be converted to electric as they become available, starting with tractor trailers and moving on to electric garbage trucks. Using electricity from the Resources Recovery Facility, electric garbage vehicles could ultimately be fueled by the very garbage they collect.
The Water and Sewer Department (WASD) and DSWM currently capture methane from wastewater treatment plants and landfills. Major upgrades to the systems at the Central and South wastewater treatment plants, and North Dade and South Dade Landfills in 2020-21, will improve collection and destruction or conversion to electricity used to run wastewater facilities. One way WASD plans to reduce its energy costs is by increasing the amount of energy produced from captured methane or biogas from 3.2 MW to 9.6 MW at 7,500 hours/year by 2030.