Reducing transportation-related fuel consumption will have the largest single impact on communitywide emissions in Miami-Dade County and requires multiple strategies.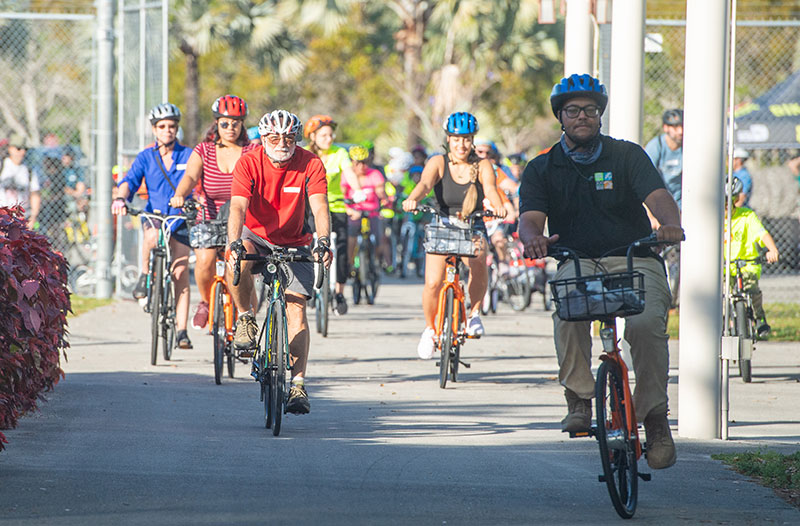 These strategies include reducing vehicle and mobile equipment usage, expanding effective low-carbon mobility options, accelerating the electrification of vehicles and equipment and prioritizing those powered by renewable energy, and cutting emissions from our port, airports and other commercial hubs.
Luckily, these are all propositions with multiple long-term economic, health, and climate benefits.
Land use development patterns and zoning impact the amount of time necessary to travel to obtain goods and services. For example, when development is spread widely across a geographic area, people need to travel farther to get to work or run errands. As of 2018, among large metro areas, Greater Miami had the 12th-worst traffic congestion and the 13th-longest commute time in the United States.

Actions to reduce vehicle and mobile equipment usage:

Design an Alternative Workplace Solutions policy and program for Miami-Dade County to maintain and expand the number of employees who telecommute and explore methods to encourage other large employers to implement telecommuting
Double the utilization of roundabouts instead of traditional street intersections
Facilitate infill, compact and mixed-use redevelopment
Build transit-oriented developments
Encourage the use of fuel-efficient landscaping and gardening equipment

Nearly half of Miami-Dade households have limited or no access to a private car. The COVID-19 crisis added new uncertainty to residents' transportation options, especially for public transportation.

Expanding the mix of reliable, safe and convenient low-carbon transportation options, including public transit, bicycling, walking and micro-mobility (e.g. electric scooters) can increase the shift away from driving and is critical to ensure the economic and social well-being of all Miami-Dade residents. These options reduce the number of vehicles on crowded roads and cut air pollution, directly improving health in communities.

Actions to expand effective low-carbon mobility options:

Implement the Miami-Dade 2045 Bicycle/Pedestrian Master Plan
Develop and implement a pedestrian prioritization plan
Implement Complete Streets and Vision Zero programs
Rapidly deploy Bus Rapid Transit (BRT) and other public transit solutions along SMART plan corridors to increase service frequency and ridership

Economic forces increasingly point to a future where electric vehicles (EVs) are the standard. Every year, prices for EVs drop, the variety of models expands, and the number of charging stations increases. Right now, electric cars are cheaper to fuel (charge) and maintain than traditional vehicles that use fossil fuels.




Policies and programs that accelerate EV adoption in Miami-Dade County will create new industries and prepare us for a true low-carbon future once vehicles are charged by renewable energy sources. Methodologies for fostering vehicle electrification differ based on the two main types of vehicle owners/users: either the general public or large fleet owners, typically businesses or governments.

Actions to Electrify the County fleet:

Complete a fleet electrification analysis and transition plan to rapidly replace County-owned fossil-fuel vehicles (e.g., cars, light- and heavy-duty trucks, public buses, police vehicles) with battery-electric vehicles (BEVs)
Modify procurement methodologies to account for lifetime operational and maintenance cost savings
Complete an assessment of County facilities to determine where to install EV charging infrastructure
Find funding to modify facilities to install charging infrastructure, prioritizing charging infrastructure that is EnergyStar certified and use a renewable energy power source

Actions to Accelerate Community Electric Vehicle Adoption:

Partner with EV charging companies to expand public charging infrastructure
Enforce and expand ordinances that require public charging infrastructure
Create a plan and find funding to ensure County-financed chargers for public access are equitably distributed throughout the community and are ADA compliant so everyone, including renters, low-income residents and people with disabilities, have access to affordable and convenient charging
Expand public charging infrastructure at County parking facilities, prioritizing charging infrastructure that is EnergyStar certified and use a renewable energy power source

PortMiami

and Miami-Dade Airports, anchored by

Miami International Airport (MIA)

, have helped make South Florida an international gateway to the world, where successful movement of freight and passengers allows tourism and commerce to thrive. Our local ports also create hundreds of thousands of jobs. At the same time, our planes, port trucks, trains, cargo-handling equipment and ships use a lot of fuel.

In fact, emissions from jet fuel consumption at Miami International Airport represent nearly a quarter of all emissions in Miami-Dade County alone. Diesel engines are also common at our ports and emit significant amounts of air pollution, especially older engine models, that impact human and earth-system health and therefore lead to climate change and economic disruption.

U.S. ports and the large commercial companies they serve have started to pursue aggressive strategies to reduce greenhouse gas emissions. By rapidly addressing the challenges of climate change, Miami-Dade County ports can demonstrate leadership in the emerging low-carbon economy while serving as an incubator for best practices that will ensure continued economic health and competitiveness.

Actions to Reduce Emissions at PortMiami, Airports & Other Commercial Hubs:

Set cumulative goals to develop efficient fueling infrastructure, facilities, and operations within PortMiami and MIA facilities, following best practices from the EPA National Port Strategy Assessment and ACI's Airport Carbon Accreditation program.
Support fuel reductions through: replacing older diesel fleets and equipment; operational improvements to idling; switching to renewable, electric or hydrogen fuels; routing and delivery efficiencies; and behavioral and educational efforts.