Commissioner Eileen Higgins
Welcome to District 5, the heart of the Miami-Dade County!

From historic neighborhoods to sweeping bay, river, and ocean views, the eclectic mix of District 5 embodies the best Miami-Dade has to offer residents and visitors alike.

This vibrant district includes the cities of Miami and Miami Beach, including the urban neighborhoods of Brickell and Downtown; the working, industrial Miami River; tree-lined Coral Way neighborhoods like The Roads, Silver Bluff and Shenandoah; the South and Mid parts of Miami Beach; and Little Havana and West Flagler, the colorful center of Hispanic culture.

We invite you to join our team in creating the story of Miami's present and future together. Learn more on how District 5 is serving you by searching legislation, latest news and events, and all county services.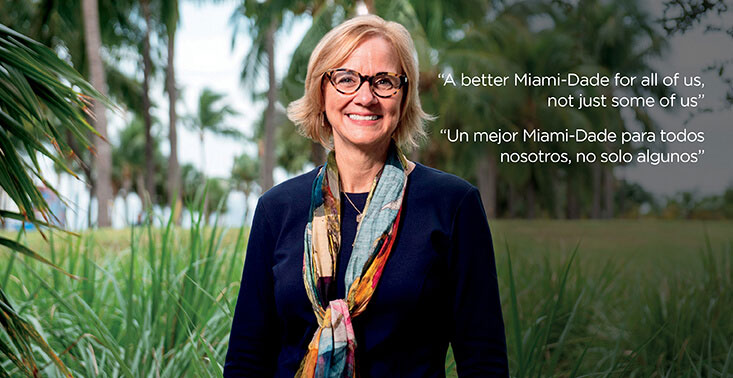 Miami-Dade County Commissioner Eileen Higgins, District 5, will host an unveiling ceremony in honor of Manuel A. "El Mono" Gonzalez on Thursday, Nov. 21 from 5:30 p.m. to 8:00 p.m. at Cubaocho Museum and Performing Arts Center, 1465 SW 8th Street, Miami, FL 33135.
The Board will provide recommendations on policies to end discrimination and advance the social, economic and political issues that impact LGBTQ visitors and residents in Miami-Dade County. Applications will be accepted through Nov. 20. Qualified applicants will be contacted by District 5 staff for an in-person interview.
The legislation mandates that affordable housing developments be prioritized across all County departments. The item also directs County Mayor Carlos Gimenez's administration to prepare a report on the current permitting process and to propose shortened timelines for review by County agencies such as Miami-Dade Water and Sewer and the Division of Environmental Resources Management.
At its October 3, 2019 meeting, the Miami-Dade Board of County Commissioners approved the creation of an LGBTQ Advisory Board sponsored by Commissioner Eileen Higgins, District 5. The Advisory Board will serve to address quality of life issues and propose policy recommendations to address social, economic, cultural, and political problems facing the LGBTQ community. (HS/EHS) program.
The installation ceremony for newly elected County Commissioner Eileen Higgins of District 5 was held on Tuesday, July 10 at 10 a.m. in the Commission Chambers at the Stephen P. Clark Center, 111 NW 1st Street, 2nd Floor.

News Releases and Photo Gallery