Last Visited »
Hurricane Irma
As we continue our recovery and cleanup efforts, please visit the Emergency website for the latest information on openings and closings in Miami-Dade County.
Construction & Development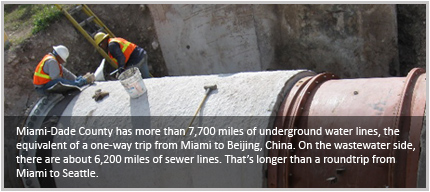 Building something? Did you know that all new construction, changes of use and most renovations for residential and commercial projects must be evaluated and approved by the Water & Sewer Department (WASD)?
WASD's role is to evaluate the project's proposed use to ensure the availability, integrity and capacity of our infrastructure, which is designed to protect public health.
Construction & Development Payments
Payments for construction and development charges can be made online with a credit/debit card only.
Utilities Information Request
Customers may request information for the following documents regarding Water and Sewer Infrastructure: As-Built, Atlas, Sewer Lateral Location, Easement Consent Letter (Utility Easement), and Preliminary Points of Connection (POC). Please be aware that the Preliminary POC does not substitute or supersede POC's provided in LOA's and Agreements.
Floating Meter Application (Construction Meter)
An application is required to request a Floating Meter for a temporary project where the property does not currently have a water meter or for a mobile business operating from a vehicle.
Letter of Availability
In order to obtain a water or sewer letter of availability (LOA) from the Miami-Dade Water and Sewer Department (WASD), you must submit the following documents and information to WASD prior to preparation of the LOA.
Agreement Application Request
Process for the Developer to request a new Agreement with Miami-Dade Water and Sewer Department (WASD). If an Agreement with WASD for this project already exists, and you need a Reactivation of Agreement, Re-offer, Addendum, Unity of Title, Covenant, Assignment, or Assumption of Agreement, go to e-Builder and initiate the process "041 - Agreement Reactivation Request and other Legal Docs." Agreement Application Request Search Page
Municipal FDEP Applications w/o Agreement
This process is to allow the applicant to submit Municipal FDEP Applications without Agreements and route it through WASD for approval.
Submitting Water and Sewer Facility As-built Documents
Read about setting a water meter on existing water service, both with and without an executed water or sewer agreement.
Projects with New Water or Sewer Service
Information about new first-time water service installation from an existing water main, as well as first-time connections to the sanitary sewer system.
Water or Sewer Service Agreement
The steps and documents required to obtain a water or sewer service agreement from the Water and Sewer Department.
Set Meter Request without Agreement
This process is designed to process the New Account Work Form to REQUEST A SET METER or NEW SERVICE INSTALLATION REQUEST through e-Builder for projects WITHOUT AN AGREEMENT, but only initiated in the Public site. The New Account Work Form will be processed for Existing Premises, Existing Services, Pump Station, Service Installation Request (SIR), and Re-Code.
Service Installation Request without Agreement
This process is used to request a service connection to an existing MDWASD Water Main. This only applies to projects WITHOUT agreements.
Submitting Documents for Water or Sewer Facilities
Find out what is needed in order to submit as-built drawings to the Miami-Dade Water and Sewer Department for water and sewer facilities.
Pre-Approved Product List
The Pre-Approved Product List is for contractors, developers and suppliers to submit products used in construction for approval to the Water and Sewer Department.
Design & Construction Standards
These "standards" are intended for developers, engineers and contractors to design and construct water, sewer and reclaimed water infrastructure projects that will subsequently be donated to the Water and Sewer Department.
Plans Review
Electronic Plans Review allows registered customers to submit plans for review and approval in electronic file formats. Reviews, markups and changes can be exchanged electronically, thus improving efficiency.
Pre-Construction Meetings
Information if you wish to request a pre-construction meeting with the Water and Sewer Department (WASD) on a project that includes an executed water and/or sewer service agreement.
Construction Contracts
To be eligible to bid on construction contracts with the Miami-Dade Water and Sewer Department, you must be licensed to perform the specified type of work in Miami-Dade County.
Construction Project Requests
Learn about requests for projects within or along state roads; the re-platting or permanent closure of roads with existing water and sewer infrastructure; and excavations.
Cross-Connection Control & Backflow Prevention
A cross-connection is an actual or potential link between the potable water supply (water safe for human consumption) and a non-potable source (any other type of liquid, gas or substance not fit for consumption and that can affect water quality).
A cross-connection can be avoided by eliminating the link between the two sources. If the link cannot be removed, then the potable water supply must be protected through the use of a backflow prevention assembly.
Back to Top
Page Last Edited: Wed Jan 5, 2022 10:14:58 AM
water
You are now leaving the official website of Miami-Dade County government. Please be aware that when you exit this site, you are no longer protected by our privacy or security policies. Miami-Dade County is not responsible for the content provided on linked sites. The provision of links to these external sites does not constitute an endorsement.

Please click 'OK' to be sent to the new site, or Click 'Cancel' to go back.