Last Visited »
Hurricane Irma
As we continue our recovery and cleanup efforts, please visit the Emergency website for the latest information on openings and closings in Miami-Dade County.

Blog
Your 10-Step Guide to Using Miami-Dade Transit's New EASY Pay App
Mobility in Miami is evolving. New technologies are constantly being developed that change the nature of the beast when it comes to public transportation. Luckily, at the Department of Transportation and Public Works (DTPW), the transit agency shows no signs of slowing down and being late to the tech party.
In October of 2016, the Department launched the EASY Pay Miami mobile app. This type of technology allows any smartphone device to be turned into a digital EASY ticket and purchase fare passes from the palm of your hand!
"These efforts will place Miami-Dade County at the forefront of this type of technology in the United States," said Alice N. Bravo, P.E., Director of DTPW. "We envision that this new way of fare collection will encourage new riders to give transit a try and make riding more convenient and seamless for our current patrons."
Benefits to this new ticketing option include: No need to carry cash or look for a ticket vending machine, the app allows users to store multiple tickets, and -- the best part -- you can buy tickets anytime from anywhere! During this first stage of the year-long project, users will only be able to purchase a 1-Day Pass ($5.65). More features will be added next year; such as EASY Card management, the ability to turn your smartphone into a digital EASY Card, and even the incorporation of other transportation ticketing options like Broward County Transit and TriRail.
"Ultimately, we envision that this new way of fare collection will encourage new riders to give transit a try and ride with us," added Bravo. "EASY Pay will make riding more enjoyable and seamless for our current patrons, as well."
Ride the Metrorail or Metrobus without the added need for a paper ticket or plastic card -- all you need is your smartphone. Follow these ten simple steps to get started.
Download the EASY Pay Miami app via Google Play or the App Store (it's free!).
Create an account with your email address and add your payment information.
Now you're ready to purchase tickets and one step closer to riding transit.
Decide if you want to Plan Your Route or Buy Tickets -- you can do both with this app! (We're going to pretend we heard you say, "I want to buy some tickets now!")
Select the "Buy Tickets" option (currently, there is only the option for a 1-Day Pass) and choose your ticket quantity (max ten per transaction).
Add your tickets to your cart and select "Pay Now" to complete your purchase.
Choose to either use your ticket now or save for later.
lick "activate ticket" when you're ready to go.
Show the Metrobus operator your active ticket or scan it at the barcode-equipped fare gate.
Congratulations, you're now riding transit!
The application was developed in partnership with Cubic Transportation Systems, a global company dedicated to intelligent travel solutions, and by Passport, a national leader in mobile payment technology.
Visit EASY Pay for more information. Stay connected with the latest transit information by following us on Twitter @GoMiamiDade and "liking" us on Facebook.
Back to Top
The Five Best Tips For Using Transit in Miami
09/20/2016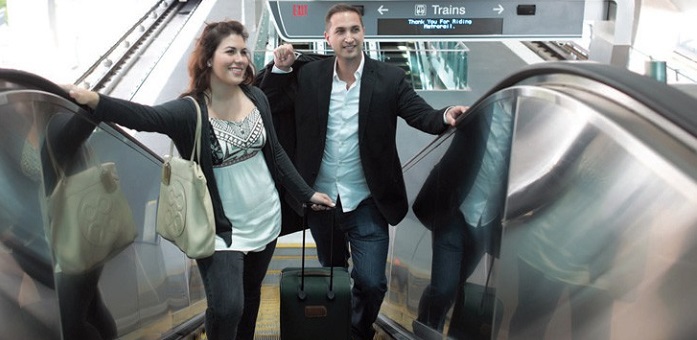 Public transportation connects people from all walks of life to their desired destinations. It can take you to work, drop you off for a night on the town, and even drive you to the grocery store. At Miami-Dade County, we're all about making mass transit clean, safe, reliable, and convenient. For a first time user -- or even an occasional rider -- understanding how transit in Miami works might take a couple of trips (and pulling out some old-school maps). All those blue, green, and orange lines laid out might appear like something only a pro could decipher. Avid riders understand the tricks to getting around the County on the Metrorail, Metrobus, and Metromover. We sat down with a few users who we consider to be prolific in all things public transportation, and we asked them to share their best tips and tricks for using transit in Miami. Here's what they had to say:
5. Just try it It's as simple as that. Get out and try it -- what do you have to lose? "Don't be scared to just try transit," says Marcus Bach-Armas. "It's a different universe now than it was when we were growing up." Bach-Armas, Director of Legal and Government Affairs for the Miami Dolphins, grew up in Miami and like most Miamians, he says, he was attached to his car. He would ride transit occasionally, but a few years ago, he became a "transit addict." His favorite thing about riding transit to work in the mornings? "I can actually be productive while I ride. I can check emails, I can connect to the wifi, I can just sort of disconnect from life and not worry about whether I'm texting and driving and just sort of enjoy my commute."
4. Park and ride Parting ways from your car will take some time, but you don't have to say "goodbye" indefinitely. Dip your toes into the pool of public transit by trying our park-and-ride garages. "Drive over to one of the garages, leave your car, and hop on the metro," suggests Jami Reyes, public relations maven and member of the Miami Parking Authority board. "I think the best way to start using transit is by going the park-and-ride route." Reyes grew up in Washington, D.C. and used their metro system as her primary mode of transportation. She has fond memories of taking the train from her high school in Maryland into the city to visit museums or restaurants with her friends. When she moved to Miami in the early '90s, the first thing she did was "look for ways to get around using transit." She quickly discovered Miami-Dade County's Metrorail, Metrobus, and Metromover and has been riding ever since.
3. Don't forget: the Metromover is totally free "You can hop on the Metromover in downtown and ride it to Brickell and vice versa," says Aramis Lorie, local musician and business owner. "Whether I'm going to places like Komodo or anywhere else in Brickell, I usually just take the mover… You really get such a great view of Miami when riding the rail or mover. It's beautiful up there and most people have never experienced that." The best part? It's totally free. Lorie has been riding transit for over 20 years since he was a teenager growing up in Hialeah. He especially used the Metrorail and Metrobus to get to school when he studied at New World School of the Arts and Miami-Dade College. "If you really want to enjoy transit, I'd recommend taking the metro to Merrick Park or Vizcaya -- there's a lot of really cool places that you can get to. And if you're really looking to maximize your time and be efficient, ride during peak traffic times. "Unless you prefer sitting in your car not moving," he adds with a laugh.
2. Always Plan Ahead Planning is key. Much like you plan out your day and add to that endless to-do list, having a plan for your daily commute is a useful tip. Joshua Jean-Baptiste, a local actor/writer/director and graduate of New World School of the Arts, has been riding transit since his teen years. While in high school, in an era before everyone had a cell phone, Jean-Baptiste would use transit as a meeting point with friends. "I knew that at 2:15 p.m. on Sundays, route 3 was going to be there at a particular stop and I could meet up with my friends that way," he says. "Transit has just always been a part of my system. More recently, since I'm a resident of downtown I don't own a car." His most useful tip is planning ahead. "Always give 15 minutes of insurance!" he says with a laugh. "Whether you yourself are running late, or maybe the bus is held up, those 15 minutes are golden. It can do more good than harm."
1. Download the Miami-Dade Transit Tracker App Perhaps the best trick to conquering the world of Miami-Dade County's public transit is by downloading the app. The latest version of the Transit Tracker features real-time updates on your bus or rail, and the handy Trip Planner option allows you to plan your route (see tip #2) ahead of time. "I highly suggest everyone to use the tracker app -- it works!" says Reyes. "The timing of the metro is accurate, and you can also plan your trips with it." Bach-Armas practically swears by it: "The app allows me to plan my trip a little easier. For example, If I know my train or bus is coming in ten minutes, then I can leave in seven minutes. It gives me real-time information, which makes my transit planning a lot easier."
Stay connected with Miami-Dade Transit on Facebook and Twitter.
Back to Top
Your (Easy) Guide To Using Miami-Dade County's Latest Transit Tracker App
09/20/2016
Navigating your way around public transportation can be overwhelming. There are so many routes and even more lines on a map that everything can make your head spin. But not to worry, there's an app for that. No, really.
Miami-Dade County's Transit Tracker app makes riding -- and navigating -- transit easy to understand and even easier to use. It was first launched in 2011 and the latest version released this summer is the 14th installment. The mobile application has been downloaded over 367,000 times from over 133 different countries/territories -- those are a lot of transit lovers.
The most useful update includes having real-time tracking available for buses and trains. Waiting is never a fun game, but now you won't be left in the dark not knowing the whereabouts of your ride. The app alerts users of any delays or changes in schedule as they happen.
"The app has all the information anyone would need to use transit," said Alice N. Bravo, P.E., Director of Miami-Dade County's Department of Transportation and Public Works. "The look and feel of the app is much cleaner, so we believe it will be easier -- more fun, even -- to navigate. And with the integration of municipal trolley schedules, riders will be able to get a complete description of how to get from point A to point B by a certain time."
Using the newly redesigned transit tracker app is crazy easy. To help you see just how user-friendly the latest version is, we've boiled it down to a few simple steps:
Step 1 - You're going to want to get your phone out.
Step 2 - Download the Miami-Dade Transit Tracker app (if you haven't already).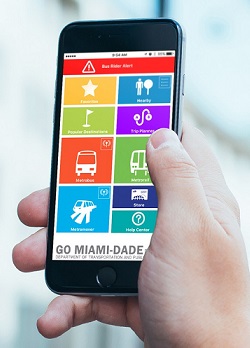 Step 3 - Open the app. (We know you like that color scheme and those fresh new icons).
Step 4 - Scroll and tap -- get to know the app.
Step 5 - Let's take that pointer finger and tap on that pretty purple Trip Planner square.
Step 6 - Where do you want to go? Figure that out.
Step 7 - Enter your start and end point addresses (don't forget city, state, or zip code!).
Step 8 - Follow the instructions and head to your Metrobus stop or nearest Metrorail Station.
Step 9 - You're now riding transit.
Step 10 - Arrive at your destination and do a happy dance because you saved time and money today.
The mobile app is only the start. Soon, the Department will integrate mobile ticketing via your smartphone, with the end result allowing riders to purchase both event tickets and transit fare right from the palm of their hands.
Stay connected with Miami-Dade Transit on Facebook and Twitter.
Back to Top
A Brief History on Miami-Dade County's 40-Year-Old Traffic Management Center
09/16/2016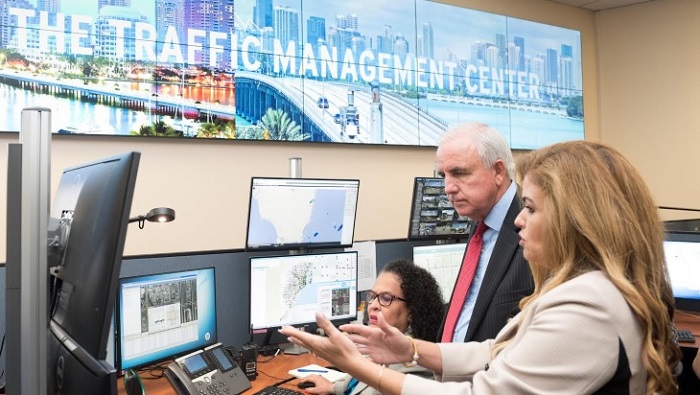 The year was 1975. More and more cars were on the roads each day and hundreds of traffic lights were erect throughout the city. In order to control the ebb and flow, Miami-Dade County took over a corner building near the Miami International Airport as the central hub of traffic. Civic engineers sat in their cubicle spaces and tinkered with numbers and formulas -- and all sorts of programs that could influence traffic patterns.
As the years rolled on, the center was kept up-to-date with emerging technologies in the market. In 2002, as part of the People's Transportation Plan (PTP) -- or the half penny sales tax -- voters approved the development and implementation of a new and modern traffic management system. But never has an upgrade included so many renovations as the latest round of improvements.
Today, the County controls the 4,100 traffic lights throughout the city -- regardless of municipal boundaries -- from the Traffic Management Center (TMC). That's more than double the amount we started with.
Under the leadership and guidance of Miami-Dade County Mayor Carlos A. Gimenez, the County merged its Department of Transportation and Department of Public Works into one (DTPW) in February 2016. At the helm was director Alice N. Bravo, P.E., whose sights were quickly set on the traffic control center in Doral and bringing it into the 21st century in style.
In a handful of months, the Department unveiled the newly modernized TMC to a room full of media in August 2016. "Our goal is to use technology to maximize the efficiency of our roadway network with the objective of improvising the mobility and flow of cars through our streets," announced Bravo.
"The way the TMC works," she explained, "is our traffic engineers monitor cameras and numerous data feeds with real-time information to observe traffic conditions and make signal time adjustments to improve the flow of traffic. Engineers are viewing cameras installed by the County and the Florida Department of Transportation and using data from programs such as Waze, Sunguide, Kimley-Horn Integrated Transportation System (KITS), Regional Integrated Transportation Information System (RITIS), and detectors in the field in order to make on-the-spot decisions."
Before these advancements, traffic engineers would need to rely on phone calls from drivers or workers who would be on the road and encounter a problem like an accident or a broken traffic light.
The expectation is that with all these new improvements, traffic engineers will adjust traffic lights and alleviate congestion on the roads. So, if you're waiting to make a left turn and the build up of cars is going further and further back, traffic engineers can see that and extend the green light on that turn. And just like that, your commute is made smoother.
"We know that because our community is thriving and ever-changing, our traffic challenges will continue to grow," said Bravo. "As such, Miami-Dade County is committed to adapting and embracing new technologies to anticipate future needs. The Traffic Management Center will always be evolving to adapt and meet the growth and traffic demands in our County."
Stay connected with Miami-Dade Transit on Facebook and Twitter.
Back to Top
If you cannot view PDF
files, you can download
Acrobat Reader
for free from Adobe Systems, Inc. In order to use PDF files, you must have Acrobat installed on your computer.
Page Last Edited: Fri Feb 3, 2017 3:12:23 PM
transit
You are now leaving the official website of Miami-Dade County government. Please be aware that when you exit this site, you are no longer protected by our privacy or security policies. Miami-Dade County is not responsible for the content provided on linked sites. The provision of links to these external sites does not constitute an endorsement.

Please click 'OK' to be sent to the new site, or Click 'Cancel' to go back.